Integrated Traffic Management System – South Bengal State Transport Corporation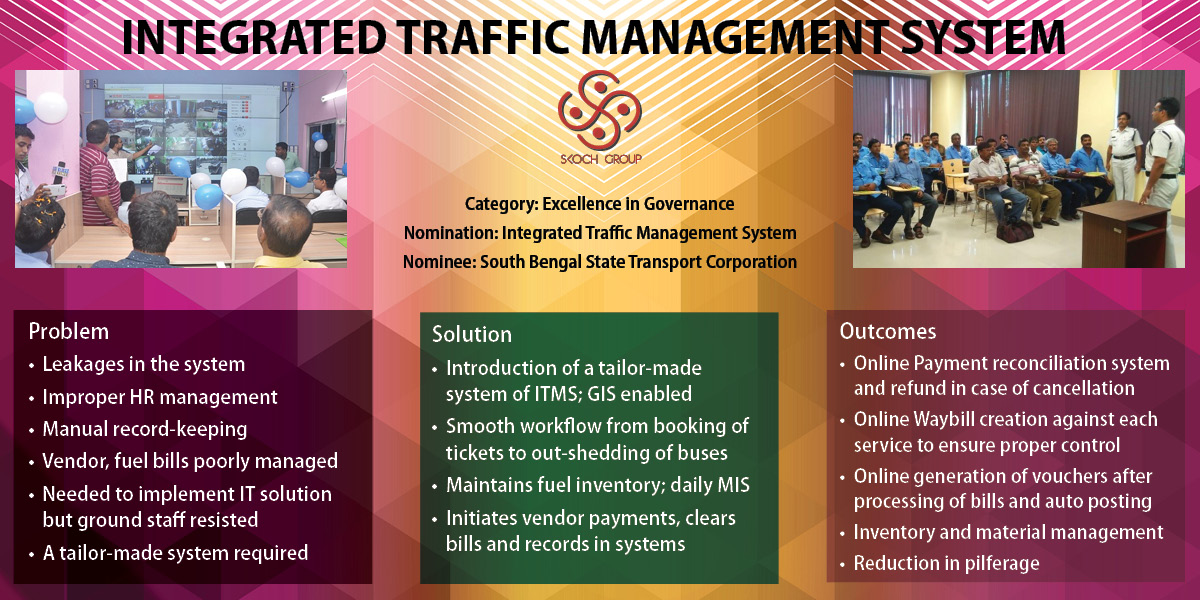 ---
SKOCH Award Nominee
Category: Excellence in Governance
Sub-Category: Transport – Transport Corporations
Project: Integrated Traffic Management System
Start Date: 01-Jul-2019
Organisation: South Bengal State Transport Corporation
Respondent: Mr Kiran Kumar Godala
Level: Club Plus
Voting has been closed for this project. Thank you for participating!
---
Videos
---
See Presentation
---
Gallery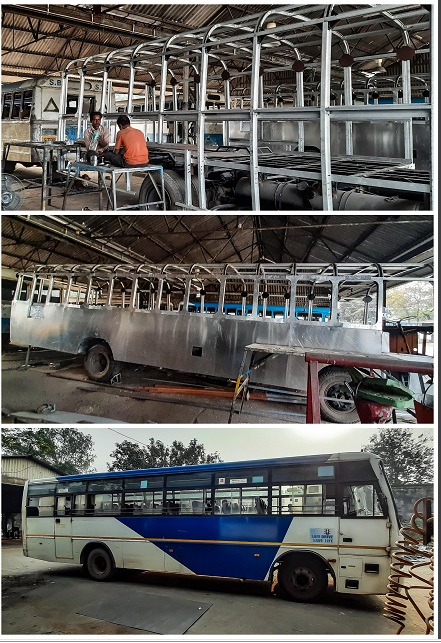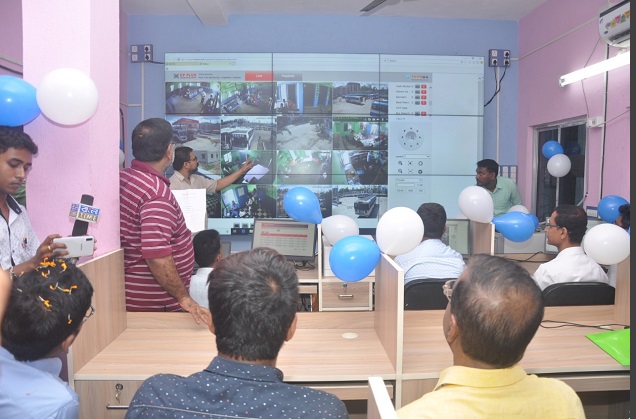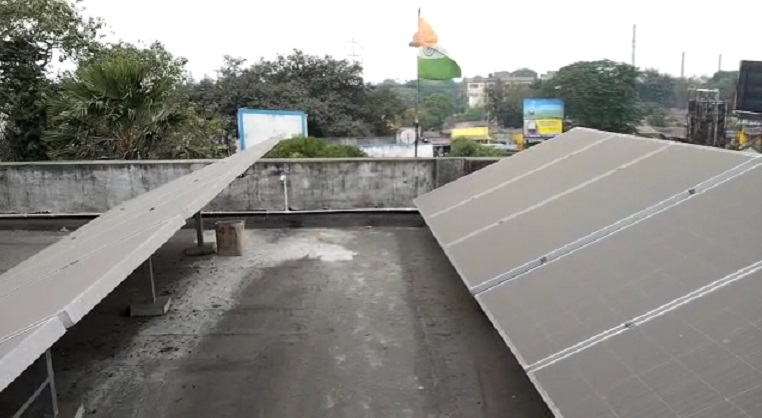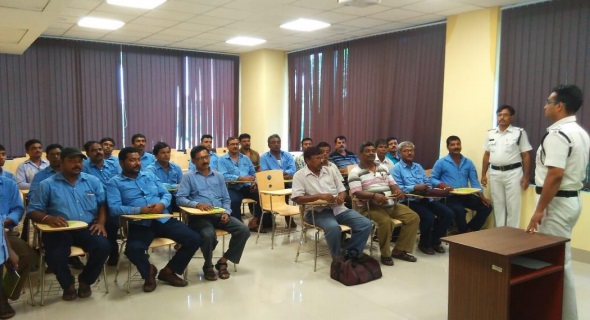 ---
Case Study
BRIEF OVERVIEW:
Presently SBSTC is operating a fleet of 927 buses through 16 depots. ITMS is the ERP software developed by SBSTC, to integrate all its functioning on a real-time basis right from ticket booking to end of service, from revenue generation to expenditure, from budgeting to provide financial concurrence, from bill initiation to payment, from monitoring of buses from automated control room, from grievance registration to redressal online basis.
THE MODULES:
Booking Module:

Online/Counter/Mobile app booking system
Online Payment reconciliation system and refund in case of cancellation

Depot Administration:

Duty Roster and job card creation of Drivers and Conductors
Online Waybill creation
On line monitoring of Fuel receipt and issue to vehicles
Waybill Collection on completion of service and transfer data to system

Accounts & Budget Monitoring:

Preparation of Budget and ensure Budgetary control
Online bill processing, voucher generation and auto posting to account
Fetching revenue details from online way bill
Auto computation and posting of inventory/ fuel consumed into accounts on real time basis
Uploading of Fastag toll transaction data file on real time basis and depot wise auto posting of same in accounts
Preparation of BRS online basis
Tax Invoice and allied report generation and auto voucher posting
Auto generation of all accounting reports

HR and Payroll:

Attendance & Pay Bill Generation

Inventory and material management:

Generation of indent for supply or works, P.O., SRV and auto posting in Priced Stores ledger and accounts

GPS Integration of buses to monitor through online map from Control Room
CCTV monitoring in buses for passenger safety

MIS to generate different decision support reports on real time basis.
The modules in pipelines to ensure more integration are:
Introduction of workshop module to ensure proper monitoring of workshop activities as a target of JIT activities
Introduction of online tyre card and spare card to ensure close monitoring on life of the tyres, spares, batteries etc. to ensure cost control
Development of mobile version of the software which will enable to work through mobile also
Full Fledged HR module to generate service book online
Services for Employees
Introduction of fully automated ETM Machines through which data can be transferred to central server just in time of booking by Conductors.
SBSTC, being a newly ISO certified Corporation, committed to ensure most effective customer services. Due to this integrated software and its customer-oriented views and system SBSTC already have bagged the ISO Certification. This is just a starting and SBSTC will never stop in achieving its goal of reaching to the distant and remote areas customers and provide service to them through their on line services at the doorsteps of customers. Towards achieving this target SBSTC have already constructed number of bus terminuses in remote areas, erected kiosks at different places to facilitate online booking for cornered peoples.
---
For more information, please contact:
Mr Kiran Kumar Godala, Managing Director
---
(The content on the page is provided by the Exhibitor)