Role Played By SBSTC Combating Covid 19 – South Bengal State Transport Corporation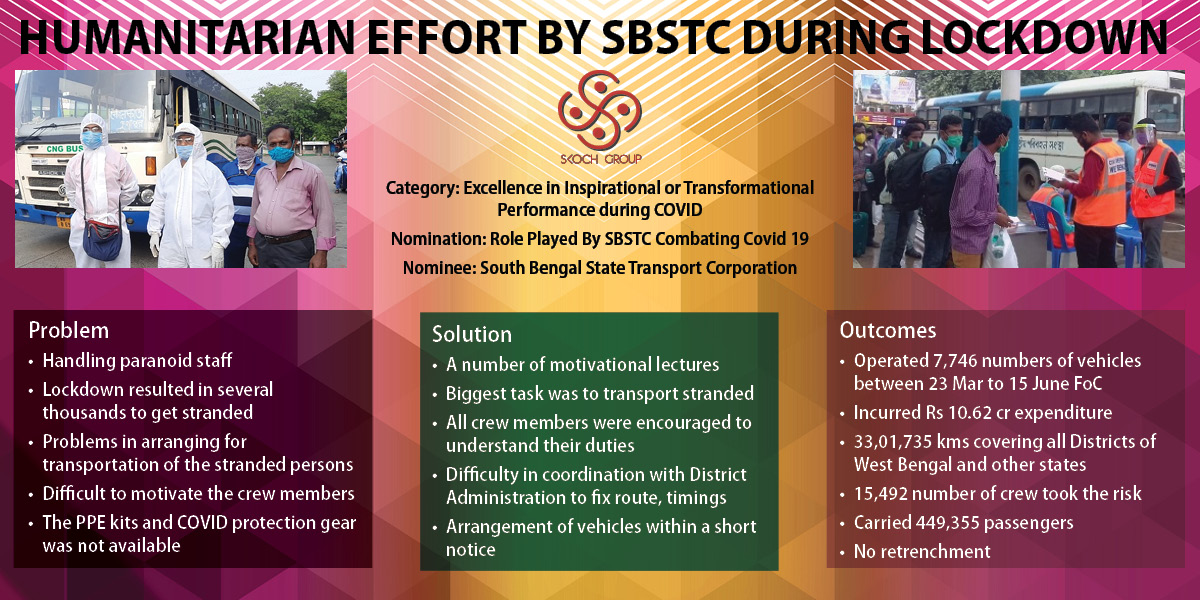 ---
SKOCH Award Nominee
Category: Excellence in Inspirational or Transformational Performance during COVID
Sub-Category: Inspirational or Transformational Performance during COVID
Project: Role Played By SBSTC Combating Covid 19
Start Date: 23-Mar-2020
Organisation: South Bengal State Transport Corporation
Respondent: Mr Kiran Kumar Godala
Level: Club Plus
Voting has been closed for this project. Thank you for participating!
---
Videos
---
See Presentation
---
Gallery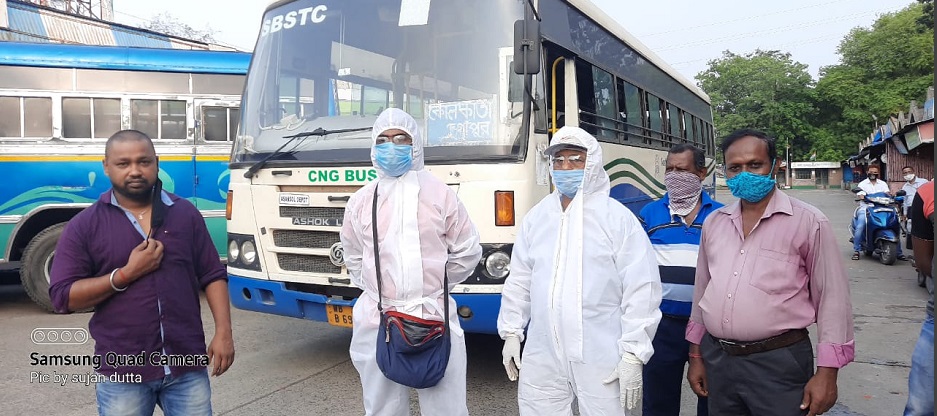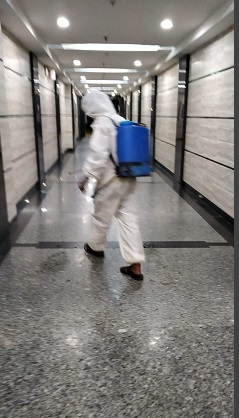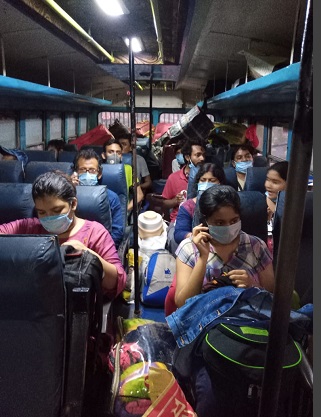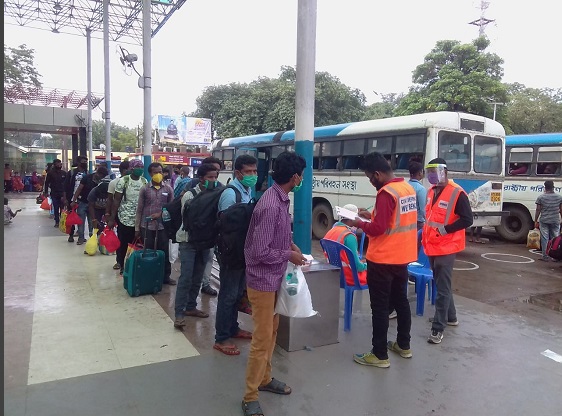 ---
Case Study
South Bengal State Transport Corporation, a public transport Corporation, established under RTC Act,1950, under Government of West Bengal, started its journey on 1st August, 1963. Presently the services of SBSTC are provided from 17 depots situated in the districts of South Bengal. The services of SBSTC have been extended to cater to the needs of people living in remote areas of Jungle Mahal and other villages. The fleet Strength of the Corporation has risen to 927. On an average 760 buses are daily plied from 17 depots to provide the services to people.
During this pandemic phase, Government of West Bengal directed SBSTC to utilise the fleet for providing services to the stranded passengers and especially to the migrants labourers. Responding to the directions of the state government, SBSTC provided following services to the stranded passengers, migrant labourers and students across the country and state free of cost.
SBSTC discharged its duties by involving 15,492 number of crew members along with 500 office and monitoring staffs. 449,355 number of passengers were transported by deploying 7,746 number of vehicles.
After deployment of the SBSTC buses, it was possible to transport major number of stranded passengers to their safest destination. Considering the number of passengers transported, SBSTC perhaps the first in country. In West-Bengal, SBSTC transported the maximum number of passengers during COVID as acknowledged by Government of West Bengal.
In addition to operation of buses, SBSTC also ensured the safety measures for the passengers and took initiative to keep it's crew safe as well as took initiatives for awareness programmes as detailed below:
Sanitisation of Buses /Depots/Terminuses/Offices on regular interval
Opening of 24*7 Control Room to help the people and coordinate with District Administration
Safety screen fitted in the buses separating driver's cabin and passenger's compartment
Using thermal scanner in terminals, Depots and offices to ensure safety.
Arranged regular awareness campaign through audio aid, distribution of leaflets arranging health camps etc.
Ensured arrangement of rapid tests of COVID-19 at Depots level to prevent the health hazards of the COVID fighters of the organisation
Provided regular wages to contractual staffs
No retrenchment took place
Continuous services provided to the frontline COVID Warriors like doctors, nurses, health workers, cleaners to reach their place of work.
In order to accomplish the objectives set out the state government, various challenges were faced by SBSTC. Despite threats and losses, SBSTC kept its promise to the public by serving them with dedication and devotion. However, it could overcome these challenges with the able support of workers, union representatives, supervisors and the managerial staff.
---
For more information, please contact:
Mr Kiran Kumar Godala, Managing Director
---
(The content on the page is provided by the Exhibitor)