Efforts to fight COVID-19 – Public Works Department, Uttar Pradesh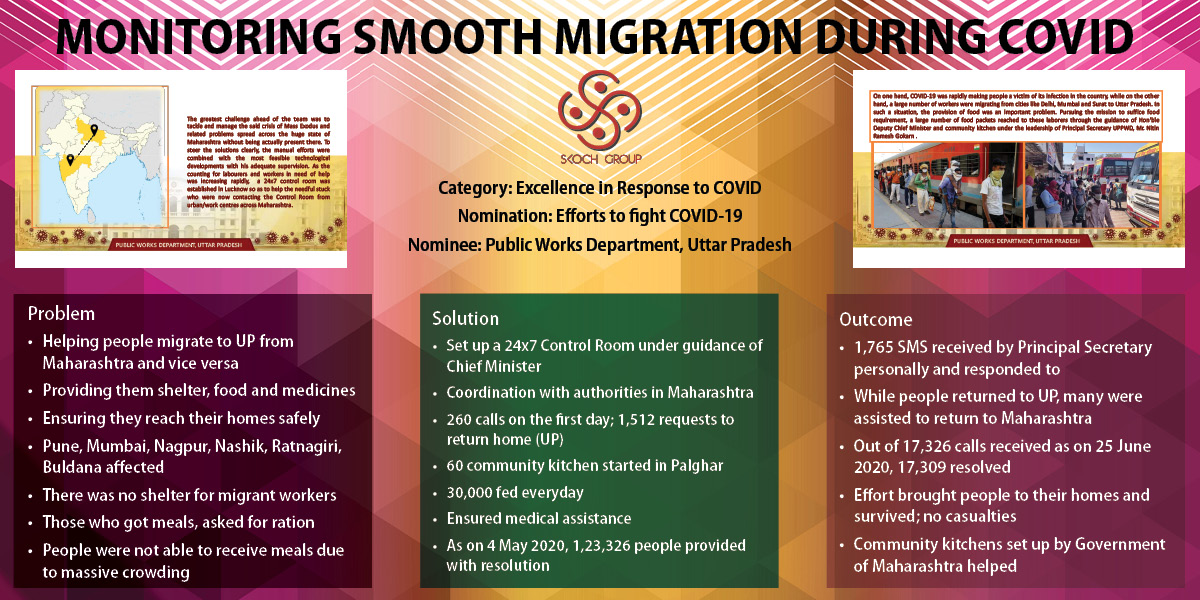 ---
SKOCH Award Nominee
Category: Excellence in Response to COVID
Sub-Category: Response to COVID
Project: Efforts to fight COVID-19
Start Date:
Organisation: Public Works Department, Uttar Pradesh
Respondent: Mr Rajeev Kumar Rai, Assistant Engineer (Civil)/CSM
Level: Club Plus
Voting has been closed for this project. Thank you for participating!
---
Videos
---
See Presentation
---
Gallery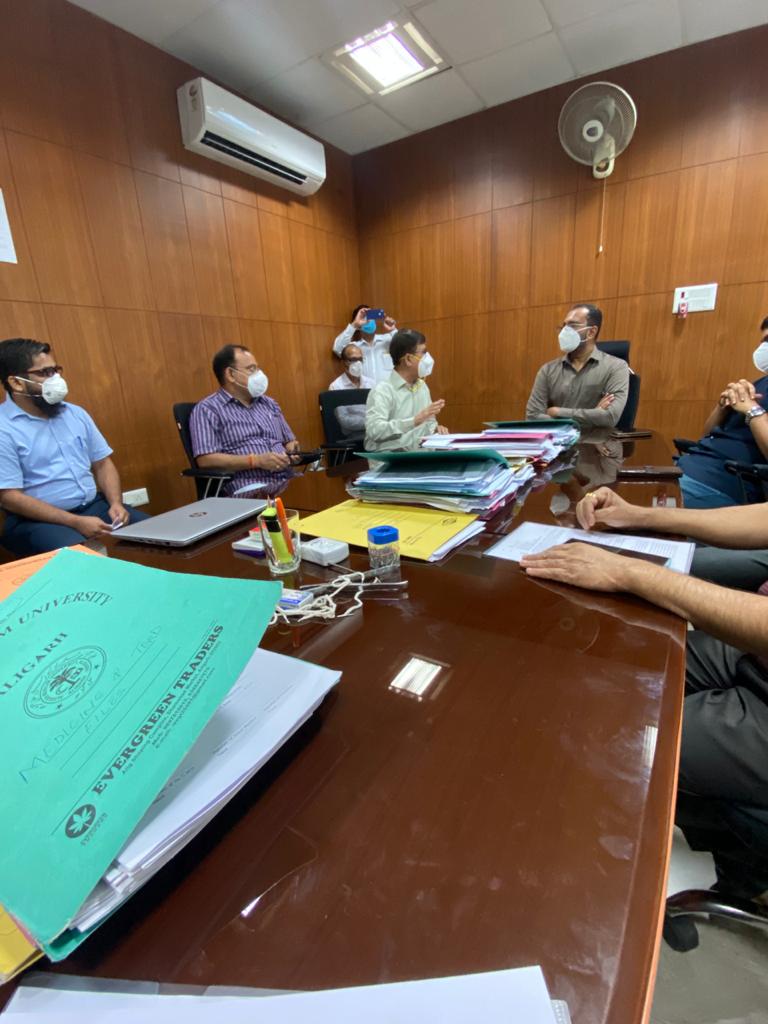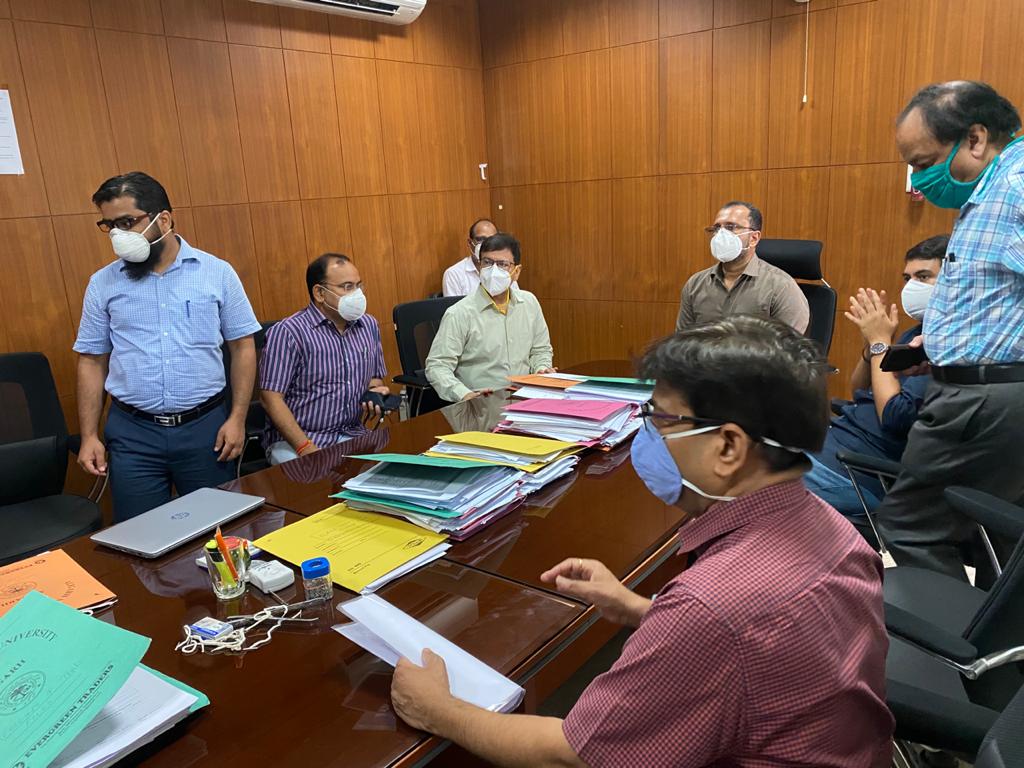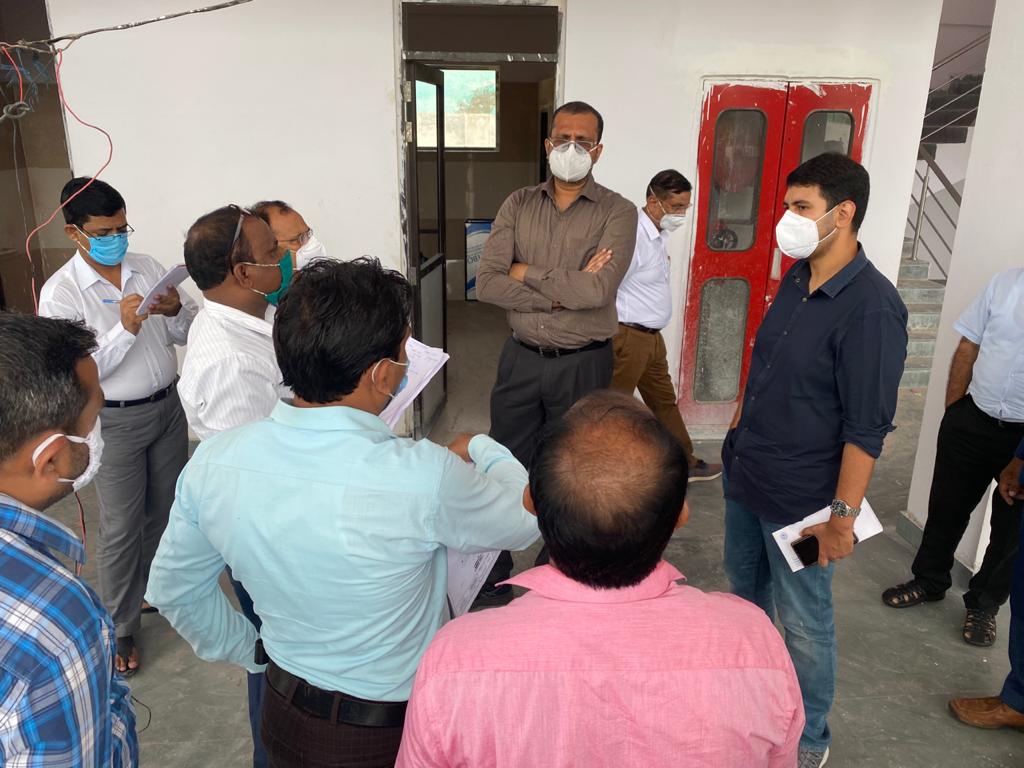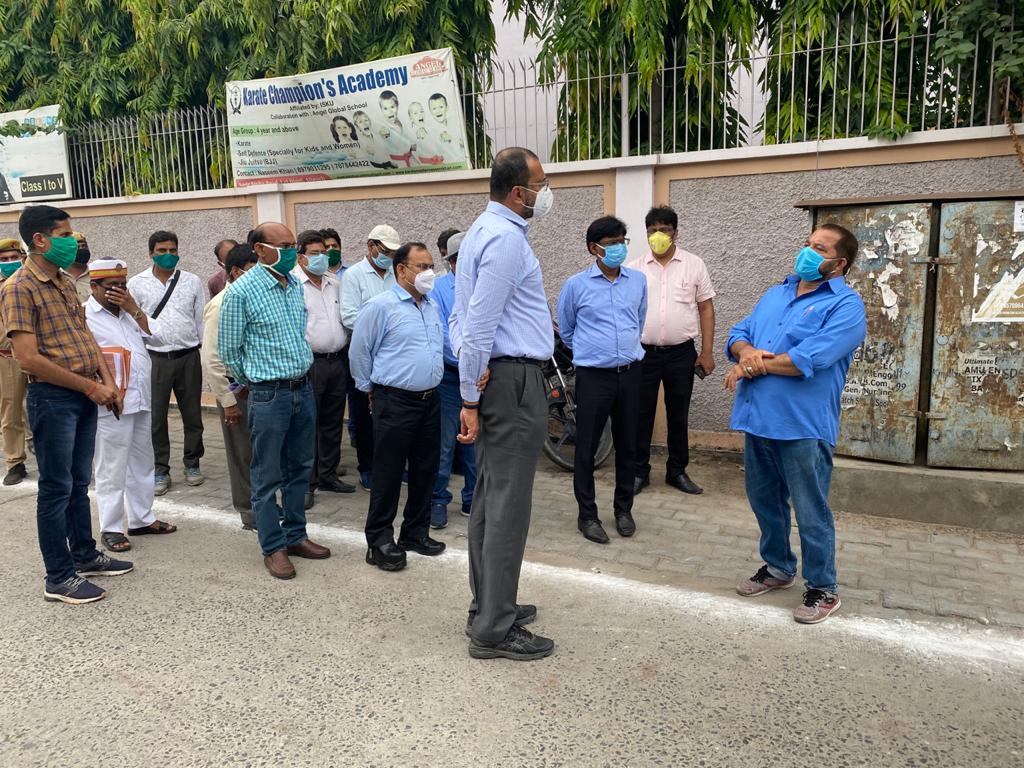 ---
Case Study
Project Summary
As per the instructions received from the Hon'ble Chief Minister Yogi Adityanath, the 24×7 Control Room was set by PWD Principal Secretary of the state, Nitin Gokarn, to address the problems of UP, mostly labour and workers who were staying in camps set up by the Government of Maharashtra in the wake of COVID19 outbreak. It commenced operations on 27 March 2020 and started coordinating and helped people stranded in the Maharashtra far away.
The stimulus behind mass migration was diverse including the paucity of food and work, however, the element which led people to pursue such movement was their emotional breakdown. This was distressful and people on the front management were tested for not only their administrative skills but dedication to service.
The greatest challenge was to manage the mass exodus and related problems. To steer the solutions clearly, the manual efforts were combined with the most feasible technological developments with supervision. As the counting for labour and workers in need of help was increasing rapidly, a 24×7 control room was established at Lucknow to help those stuck even in Maharashtra.
The Control Room was supervised by Principal Secretary personally and managed by the team helping people in distress helping them with food, medical assistance till every person reached their homes.
Another challenge was, each case was different than the other and it was difficult to address individual grievances. One such case was a person who was depressed enough to consider suicide as a way to escape. He was counselled by the team and provided medical assistance which consequently shaved his life.
Similarly, many people were facing inadequate food supply and the arrangement for their stay. Sufficient food/ration supply was ensured and arranged for their stay in camps. Control Room contacted all callers in the database created daily and coordinated with Maharashtra State Government till such time that a positive feedback of resolution was received.
All cases that were unresolved were continuously coordinated with Maharashtra officials and placed in Active Feedback List till such time a resolution was provided. Separate teams with dedicated numbers worked during the day to obtain feedback and resolve problems of the migrants.
On the first day itself, i.e., 28 March 2020, the Control Room received 280 calls, 5,609 requests for food, 636 for shelter and 3,622 to return home. The numbers kept on increasing by the day. Within a week, while number of calls went up to 5,124, the number of requests to return home jumped to 24,535. The districts in Maharashtra where people faced maximum problem included, Mumbai, Raigarh, Thane and Pune. By the end of four weeks, the requests to return home reached 1,13,321.
When the last call was received on 25 June, 2020, the number had mounted to 17,326 calls, out of which, 17,309 were resolved. The last report was submitted to both Governments on 2nd July, 2020.
What is important is that not only people residing in Maharashtra were helped, even those living in UP wanting to return home were extended a helping hand. 24×7 fight against such a crisis resulted in people being brought to their homes successfully to survive them in this calamity.
---
For more information, please contact:
Mr Rajeev Kumar Rai, Assistant Engineer (Civil)/CSM at errajeev157@gmail.com
---
(The content on the page is provided by the Exhibitor)