Safe Tourism Destination for Women in Madhya Pradesh through awareness, education, training & employment – Madhya Padesh Tourism Board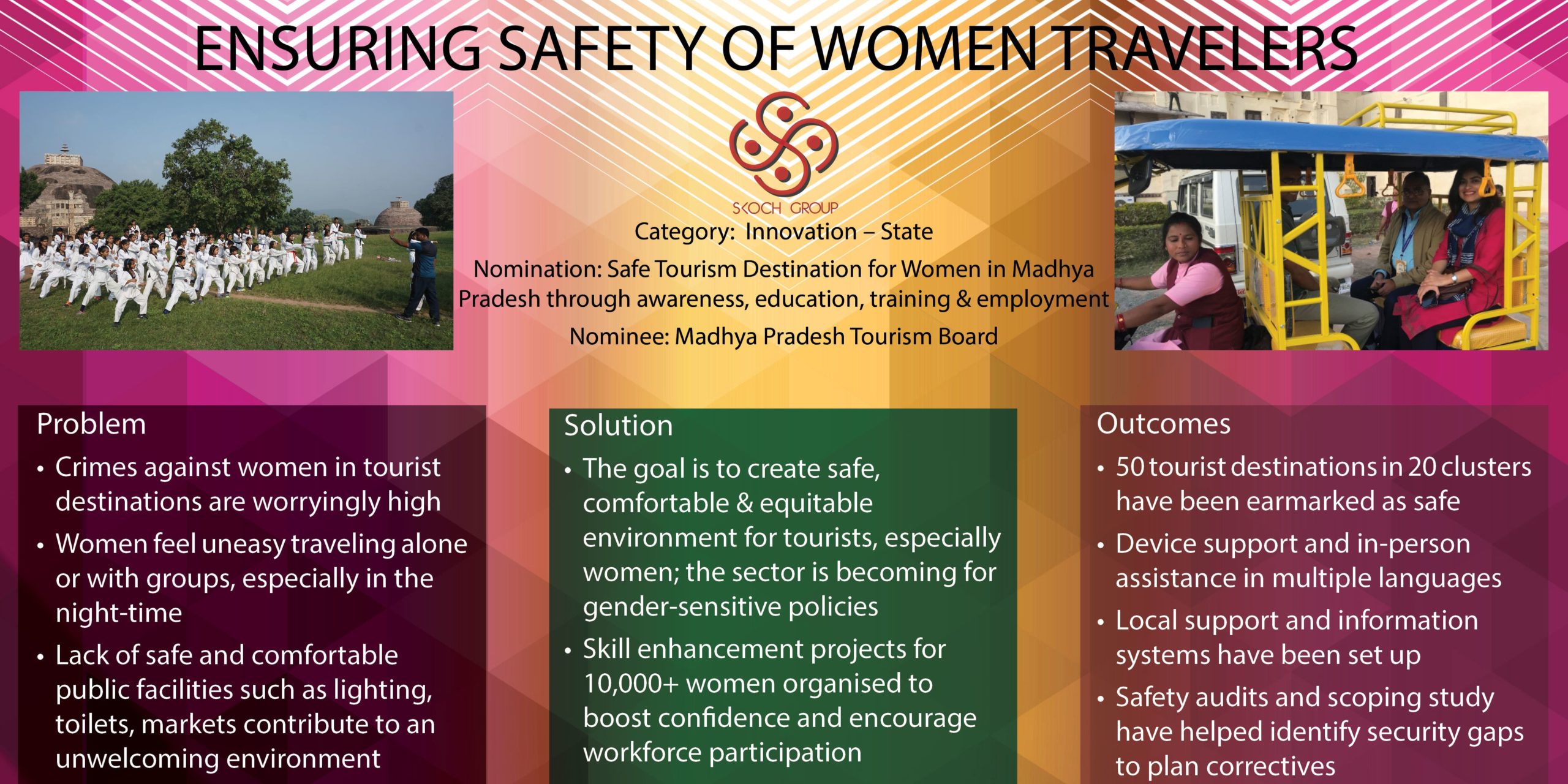 ---
SKOCH Award Nominee
Category: Innovation – State
Sub-Category: subInnovation – State
Project: Safe Tourism Destination for Women in Madhya Pradesh through awareness, education, training & employment
Start Date: 2021-06-15
Organisation: Madhya Padesh Tourism Board
Respondent: Mr Manoj Kumar Singh, Director
https://tourism.mp.gov.in/
Level: Club Plus
---
Video
---
See Presentation
---
Gallery
---
Case Study
It is an unfair but undeniable reality that many regular-seeming pursuits are harder for women than they are for men. The simple pleasure of travel is one such experience that is supposed to be enjoyable but most women have to worry, plan and reassess a lot before actually committing to a plan. In fact, negative experiences while traveling continue to be highly reported.
Problems
Crimes against women travellers in tourist destinations continue to be unacceptably common. Women often find themselves vulnerable or in danger while traveling, whether it is alone or as part of groups. A lot of systemic issues that are seemingly benign contribute to the problem. Ill-developed or underdeveloped public infrastructure such as inadequate public lighting systems, a lack of safe and clean public toilet facilities and a scarcity of women-friendly tourist destinations and accommodations all compound the problem. Both as a cause and a result of this, few women wish to work in the Travel & Tourism niche and even fewer women can be found owning and/ or operating businesses in the same.
Changing social behaviours and public systems involves challenging mindsets and unlearning and relearning better practices. Sensitisation, awareness-building and community participation all involve a lot of groundwork and support.
Solutions
The MPT project intends to remake the Tourism landscape such that it becomes women-friendly. The goal is to build safe, welcoming and sensitive public infrastructure and tourist spaces and services. The agency is pushing for women-friendly policies, planning and budgeting that take into considering the specific requirements and concerns of women travellers.
Governmental agencies, UN women, civil society actors, public influencers, NGOs and grassroots organisations, the Private sector and the media are all working together to bring about this much-needed paradigm shift.
The authorities also realise that change cannot only be outward-facing: it needs to be introspective and lead the way from the inside-out. In other words, there is a need to involve and employ more women in the Tourism, Travel and Hospitality sectors so that a truly women-centric approach can be implemented. In order to do so, the board is organising skill training workshops for 10,000+ women. The goal is to employ women and girls in all kinds of jobs, from cooks, stewards, bell girls, delivery persons, housekeeping and managers to tour guides, taxi drivers, handicrafts, computer operators, ticketing/billing, sales, hawkers and street food vendors.
Outcomes
500 women and girls will be trained every year for a wide range of jobs in the Tourism space. Several agencies and departmental schemes are coming together to make travel safer for women. MPT is working with the Urban and Rural Development Departments as well as the Education, Police, Transport and Women & Child Departments.
Safety and security are being prioritised through regular monitoring, Safe Place Certification and scoping studies and safety audits. Mechanisms like safety apps for mobile phones, alert systems, emergency numbers and help desk are being popularised. Women-friendly infrastructure such as an enquiry system, support in multiple (foreign) languages, city signposts and maps and detailed websites are being developed. There is a plan to develop and implement a 2-months self-defence training programme which will teach 40,000 women and girls over 3 years.
The promotion of home stays in agricultural, rural and urban areas and the role of women leaders in villages encouraging agricultural, rural and tribal tourism are good examples of how change is being introduced. Promoting local arts and crafts is an employment-giving opportunity that also draws in visitors.
Gender sensitisation programmes can be implemented across any niche in any part of the country.
By mapping gender needs of tourists, the programme intends to gain actionable knowledge that can be used to not only enhance travellers' experiences but also enrich everyday lives for women.
---
For more information, please contact:
Mr Manoj Kumar Singh, Director at manojkumar.singh@mp.gov.in
---
(The content on the page is provided by the Exhibitor)