COVID-19 Status in Haryana – Health Department Haryana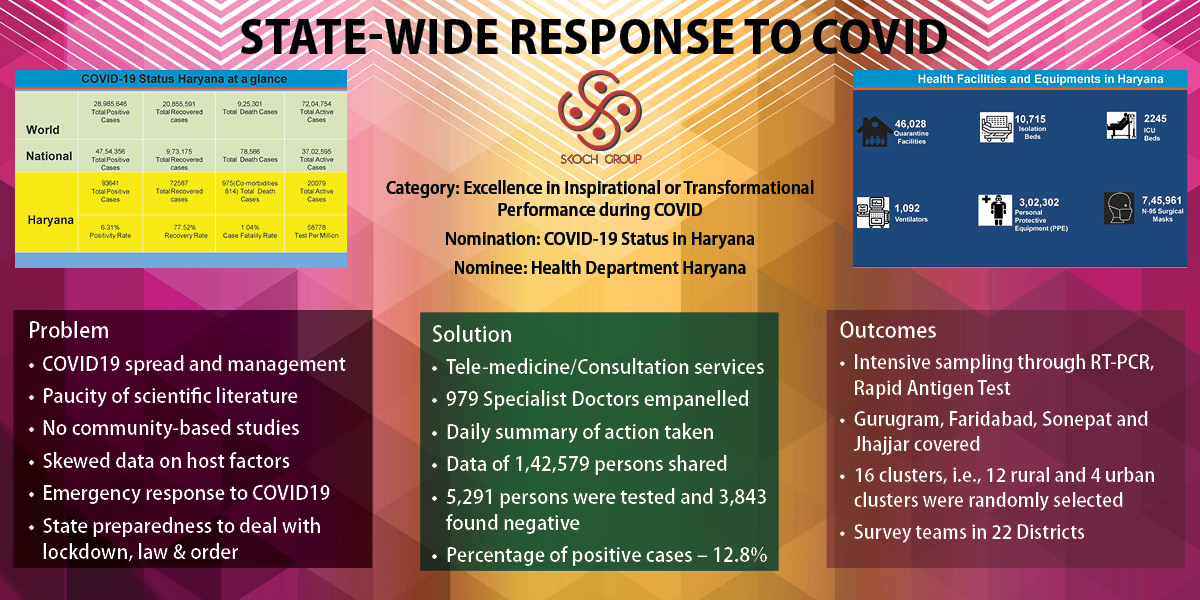 ---
SKOCH Award Nominee
Category: Excellence in Inspirational or Transformational Performance during COVID
Sub-Category: Performance during COVID
Project: COVID-19 Status in Haryana
Start Date: 23 March 2020
Organisation: Health Department Haryana
Respondent: Mr Rajeev Arora, Additional Chief Secretary
Level: Club Plus
http://haryanahealth.nic.in/
Voting has been closed for this project. Thank you for participating!
---
Videos
---
See Presentation
---
Gallery
---
Case Study
Project Summary
The State is undertaking various measures such as operating a 24×7 helpline, extensive telemedicine consultations and intensive testing and contact tracing to curb the spread of COVID-19 within the State. Some of these strategies include:
Dedicated 24×7 Helpline and Telemedicine Consultation
Intensive Sampling and Testing
Transportation Services During COVID-19
ASHA Survey App
COVID-19 Quarantine Alert System
Containment Zone Management
Patient Management
Sampling/Testing Management
Clinical Management
Fatality Management
Implementation
The State has established the COVID-19 help line for addressing the queries related to COVID symptoms and providing solutions and escalating critical calls to Specialist doctors in case patient asks for consultation to doctors. Citizens can reach COVID-19 Helpline by dialling toll free short code "1075" or "8558893911". Tele-Medicine/Consultation services have also been started on 2nd April 2020 with various specialist doctors empanelled for the purpose.
Approximately 979 Specialist Doctors have been empanelled for Tele-medicine Consultation which includes doctors of various specialisations.
Intensive sampling of COVID-19 through Rapid Antigen Testing Kits is being conducted.
Transportation services for COVID-19 suspected and positive cases is being provided
Aarogya Setu data is being used to identify and monitor potential cases, which are cross-checked telephonically. Daily summary of action is shared with SHQ.
Extensive preventive measures such as the use of masks and social distancing; dissemination of information for public through web portal regarding availability of beds and testing facilities; Engagement of Community/RWAs in contact tracing are being used.
Outcomes
Testing: 14,90,034 samples tested in total. 93,641 samples found positive, 72,587 COVID-19 patients have recovered/been discharged till date. Sampling Capacity per day has been increased from 300 Samples per day to 30,000 Samples. Currently 14 Government and 16 Private lab are conducting tests in the state (ICMR Portal). Testing charges have been drastically reduced. 16 clusters, i.e., 12 rural and 4 urban clusters were randomly selected for taking samples. Blood samples were collected from selected individuals after taking written consent post which their sera were tested for IgG anti-bodies using ELISA test kit approved by Indian Council of Medical Research (ICMR). Survey teams were constituted for all the 22 Districts and 850 samples were collected from each district covering both urban and rural population.
Transportation: A fleet of 404 Ambulances have been deployed. Two dedicated ambulances to provide transportation to COVID-19 positive patients in each district are being used. A total of 55,955 suspected cases have been transported since 25th March, 2020. A total of 21,699 COVID +ve patients have been transported since 25th March 2020.
Contact Tracing: State is sharing data of "at risk individuals" with the district for the corrective action on daily basis. District Authorities call and enquire the status of the persons and conduct the COVID testing of the symptomatic persons. Districts Authorities analyse the ITIHAS data and do survey in hotspot areas (In which they test all persons having symptoms of COVID19). Telephone inquiries about the health conditions of the persons. If person is found symptomatic, testing is done. Data of 178426 persons has been shared with all Districts, Out of which 6865 persons were tested and 4780 found Negative and 1342 found were positive. Percentage of positive cases is approximately 19.5%.
Fatality Management: A detailed death audit of each COVID positive case. Corrective measures taken in view of Death audits to reduce fatalities.
Patient Management: Use of volunteer Doctors and Para-medical staff. Enhancing the O2 supported bed capacity in CHCs/PHCs. 409 posts sanctioned during COVID-19 period for additional manpower, i.e, Epidemiologist, Micro-Biologist etc, out of which 183 posts are filled.
Preventive Measures: Challaning in case of violation of mask wearing and social distancing. Feedback mechanism be developed through Unit Teams to identify high risk cases/ travellers etc. Dissemination of information for public through web portal regarding availability of beds and testing facilities. Engagement of Community/RWAs in contact tracing etc. Maximum contact tracing within 72-hours through special cell constituted in districts.
---
For more information, please contact:
Mr Harendhira Prasad, Chief Executive Officer at harendhira@gmail.com
---
(The content on the page is provided by the Exhibitor)