Jaago – Department of Self Help Group and Self Employment, Government of West Bengal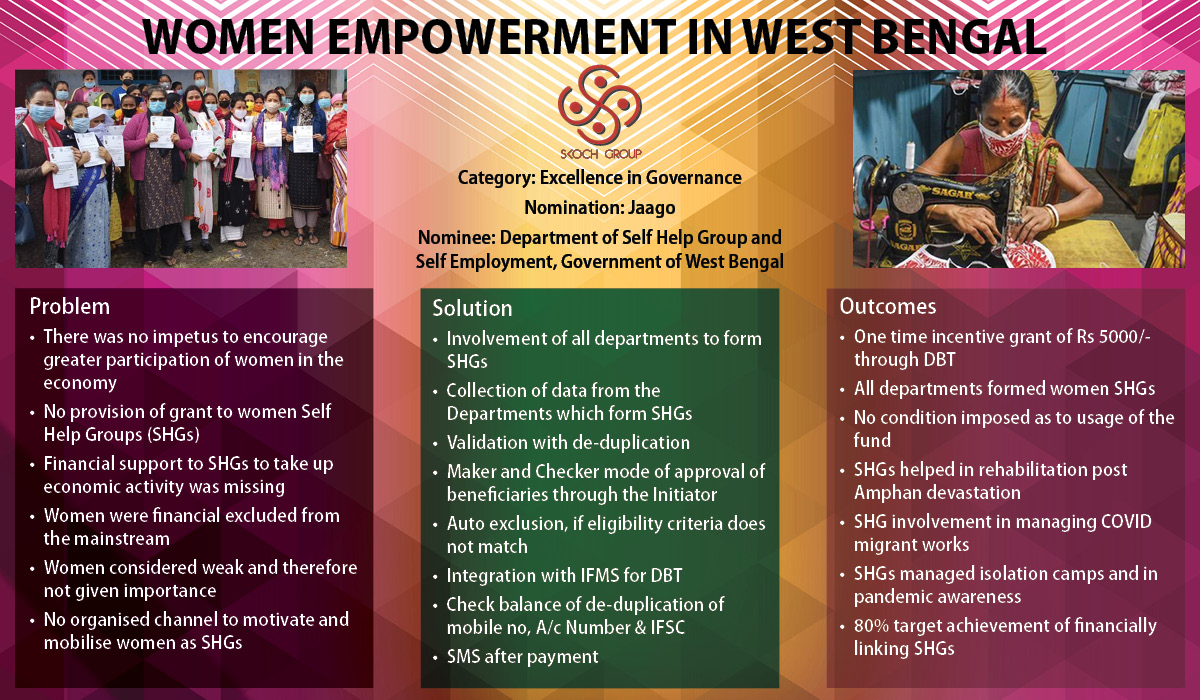 ---
SKOCH Award Nominee
Category: Excellence in Governance
Sub-Category: Women Development
Project: Jaago
Start Date: 29-Nov-2019
Organisation: Department of Self Help Group and Self Employment, Government of West Bengal
Respondent: Ms Roshni Sen, IAS, Principal Secretary to the Government of West Bengal
Level: Premium
https://www.shgsewb.gov.in/
Voting has been closed for this project. Thank you for participating!
---
Video
---
See Presentation
---
Gallery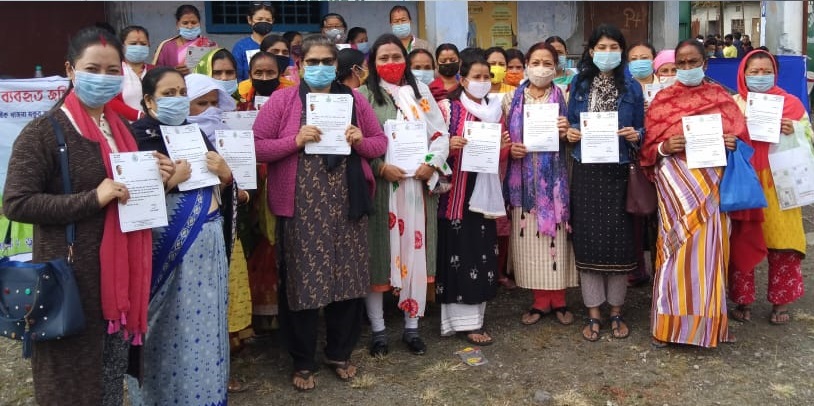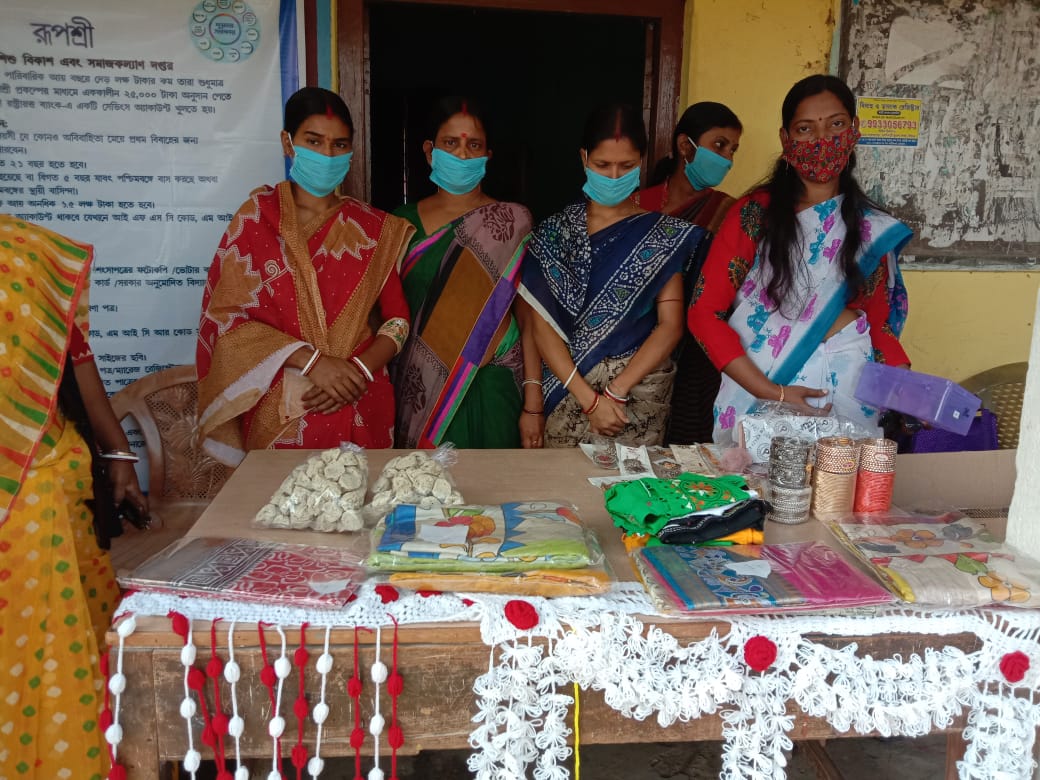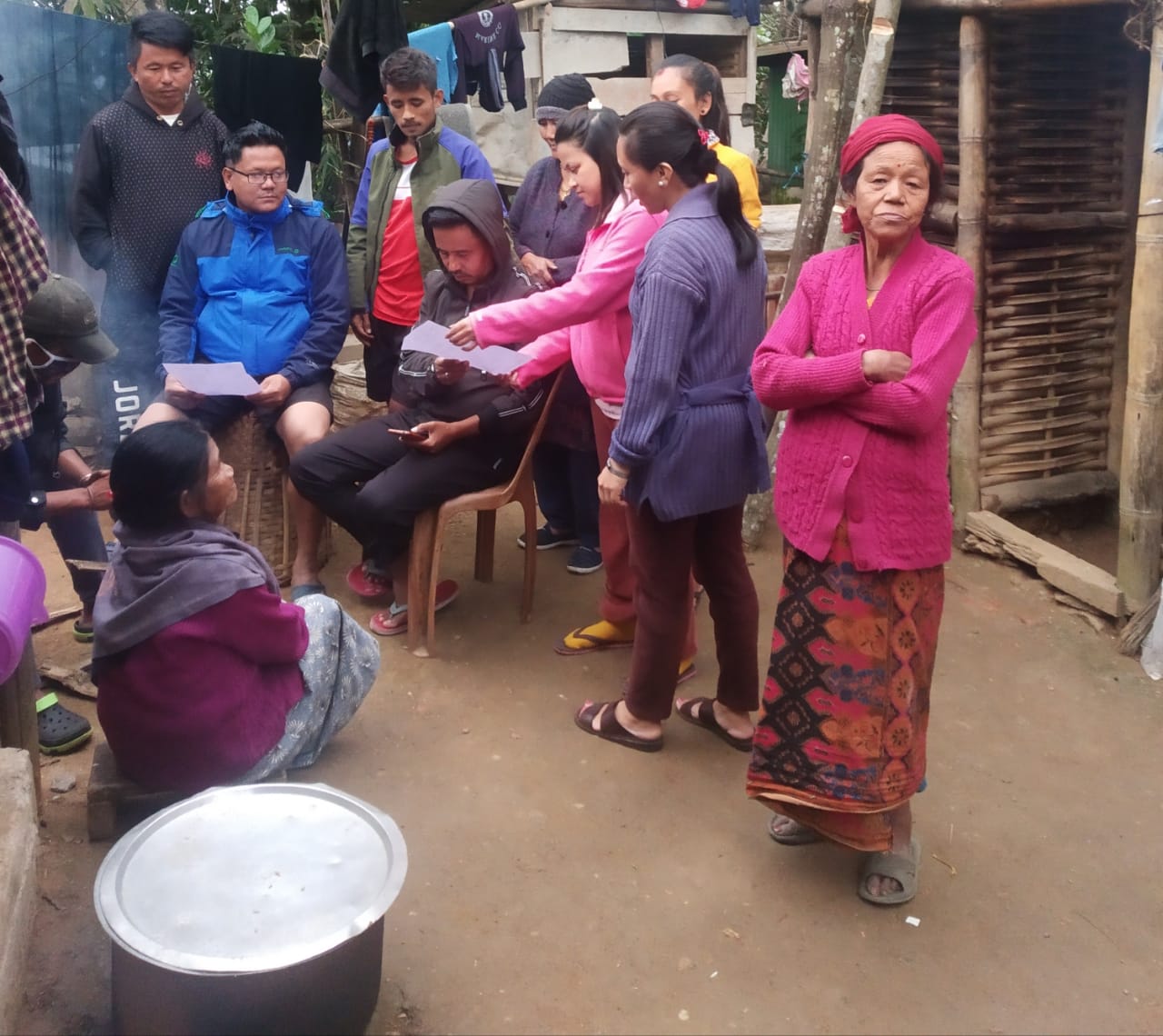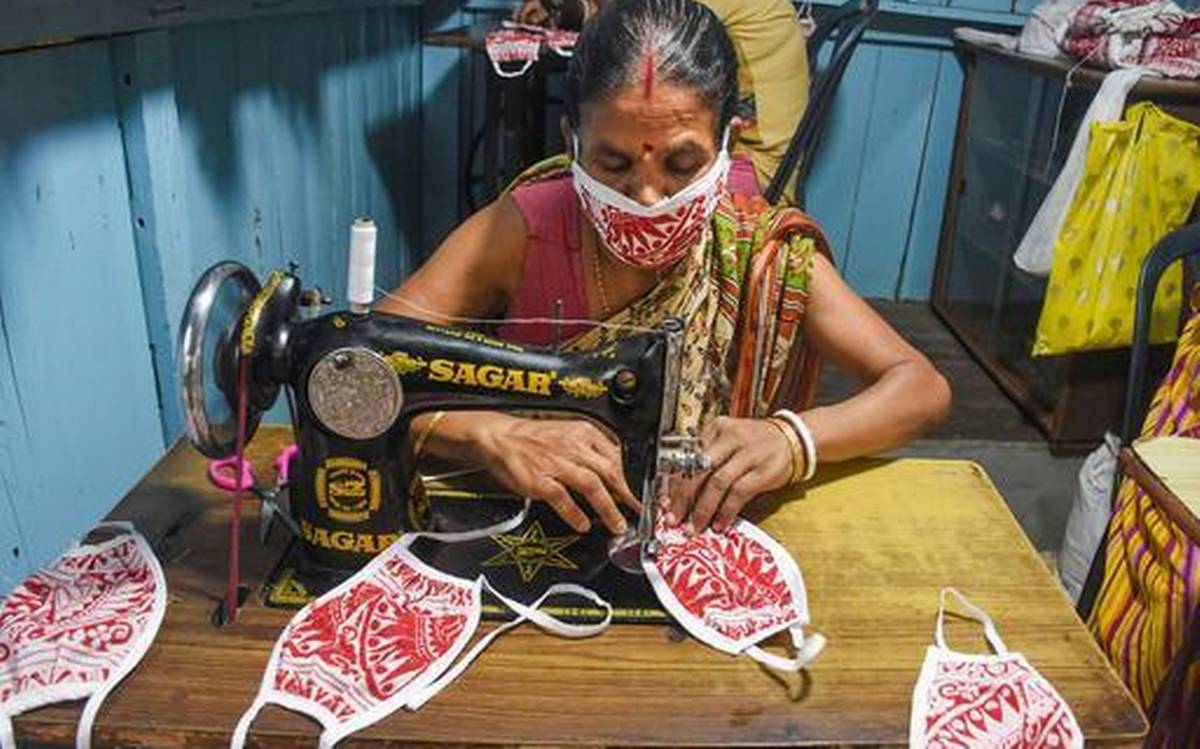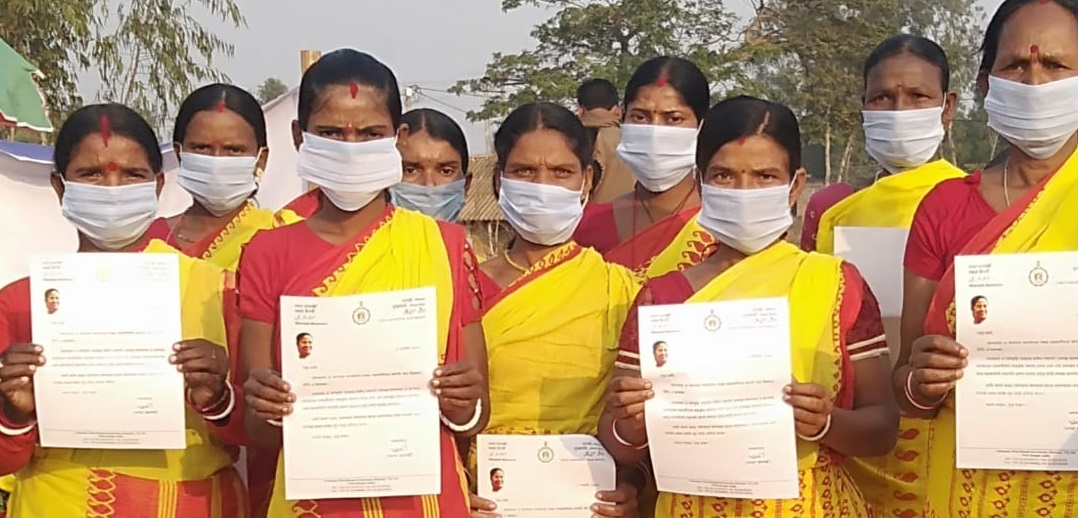 ---
Case Study
JAAGO is a scheme under Department of Self Help Group & Self Employment (SHG&SE), Government of West Bengal for supporting all the graded self-help groups of the State or SHGs accessing bank credit through a modest annual revolving fund support of Rs 5,000/-. This 'no strings attached' funding support is expected to give a boost to the empowerment of the groups. Known as Jaago, the project has a target to cover close to one million SHGs of the state.
The is distributed among the approximately 10 lakh SHGs spread across the state and is expected to directly benefit about a crore women. In 2020-21, 8,09,463 SHGs could be disbursed with Rs. 4,047 cr involving Six vertical Departments and 23 districts.
The eligibility criteria are:
All groups received cash credit limit or term loan or
All graded groups or
All groups matching the following conditions:

1 Year from formation of SHG or 6 months from opening of an account whichever is earlier an and
Minimum deposit of Rs. 5000/- in the account
The objectives of Jaago are:
Participation of women in economic decision making
Greater participation of women in social issues
Developing thrift habit
Integration of women force with MGNREGS, H&FW, Social Welfare
Access to Governance through toll free helpline of missed call/SMS based
Direct Benefit Transfer (DBT) involving no separate application
Process
Collection of data from the Departments who form SHGs
Validation with de-duplication
Auto exclusion if eligibility criteria does not match
Integration with Finance Department for DBT
SMS after payment
Features
While on the one hand, the project envisages horizontal convergence with all the State Government Agencies forming SHGs, it converges vertically with all stakeholder officers at the District level. There is complete digital convergence by integration with IFMS portal. Need for separate application by SHG concerned no longer exists.
Innovative Aspects
Database: Huge database of all women SHGs at one place cutting across Departments with relevant details
Partnership building: Women SHGs are now partners in fighting social menace, health care and hygiene, mass education, afforestation, spreading awareness for any cause
Digital presence: The portal is developed dynamically for making it more and more user friendly. Apart from the stakeholder Officers, feedbacks from the IT students have been taken and implemented
Stakeholders
State Government Departments
Own department users
District officials
Citizen (Self Help Groups)
National Informatics Centre (NIC)
IT students like those from BITS Pilani etc
There has been more than 2.5-old increase in the number of SHGs with an equivalent increase in the number of members belonging to SHGs. There has been an 11-fold increase in the amount of cash advance money.
Achievements
Financial Assistance given to 747,688 SHGS in 2019-20
3,738,440,000 total Financial Assistance in 2019-20
Financial Assistance given to 809,463 SHGS in 2020-21
4,047,315,000 Total Financial Assistance 2020-21
80.9 lakh Women SHG members got benefited out of the target of 1 crore
During COVID Jaago has encouraged the Women SHGs to take up micro initiatives like Mask making, sanitiser making and household based economic activities
Gender sensitive approach by encouraging the poor women to unite and take up income generating activities
Workspaces for activities are provided in built up infrastructures like Karmatirthas, Common Facility Centres, Common Production Centres and for micro-initiatives even in their backyards
With the empowerment of women, the index of primary education, age of marriage, spacing between two offspring etc has grown up gradually
---
For more information, please contact:
Mr Avika Chattarjee, Deputy Secretary at avikrana69@gmail.com
---
(The content on the page is provided by the Exhibitor)