Web-based Centralized Dms Software For Uploading Digitized Documents For Secure Storage, Accessibility Of Documents – Commercial Taxes Department Bihar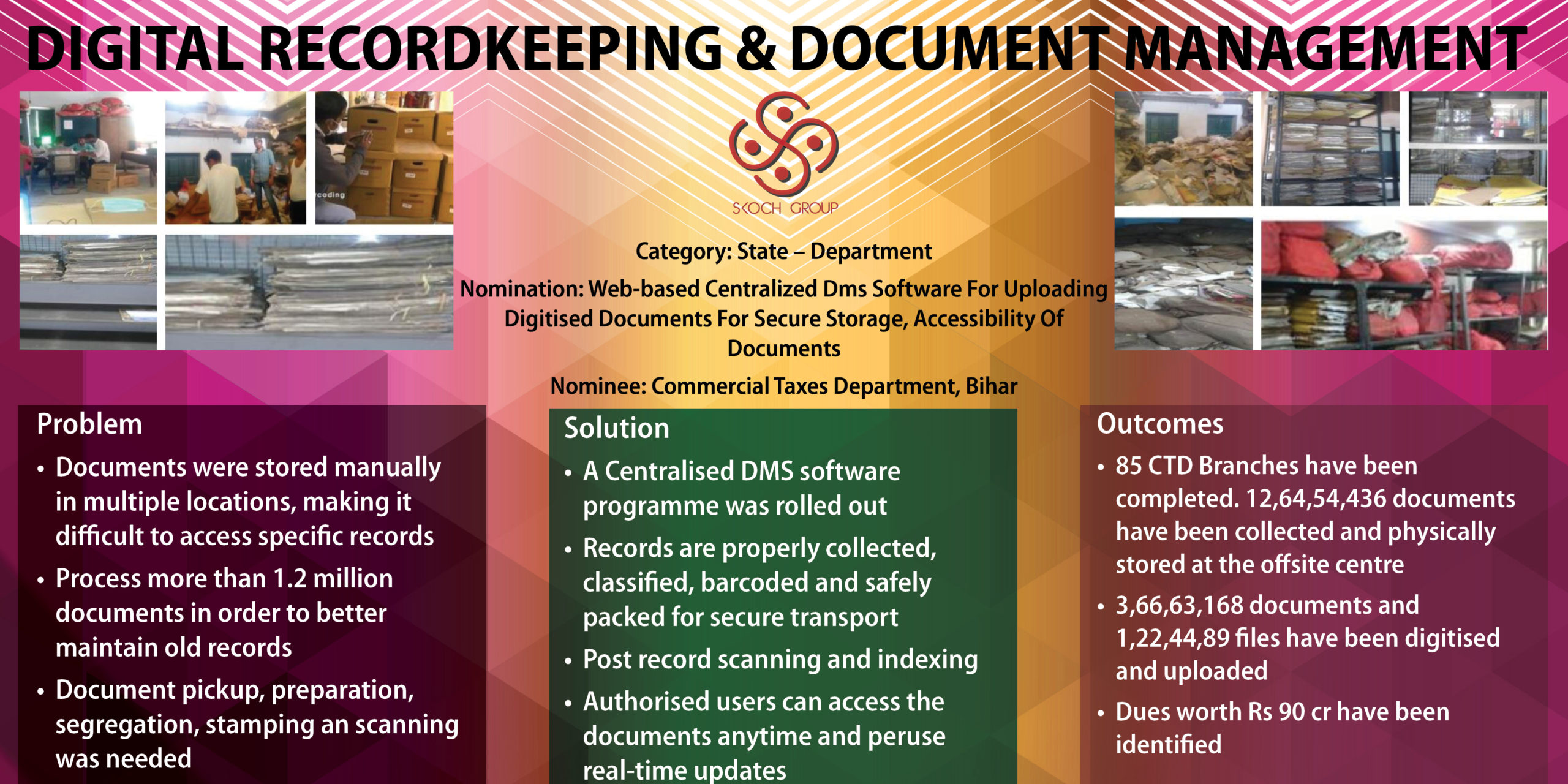 ---
SKOCH Award Nominee
Category: State – Department
Sub-Category: subState – Department
Project: Web-based Centralized Dms Software For Uploading Digitized Documents For Secure Storage, Accessibility Of Documents
Start Date: A
Organisation: Commercial Taxes Department Bihar
Respondent: Dr Pratima ., Commissioner-cum-Secretary
www.ctd.cbslprojects.com
Level: Club Plus
---
Video
---
See Presentation
---
Gallery
---
Case Study
Bihar Uses Digitisation to Update Recordkeeping and Document Management
The Commercial Taxes Department of Bihar is the government organisation dedicated to tax administration in the state.
Problems
The department has traditionally maintained documents manually, stored across a variety of spaces. Whenever officers needed to quickly access particular documents or records, they were unable to do so. Not only did this affect various department functions, poor record management also meant a vast number of documents -and by extension, tax-related information- was missed or not properly understood when needed. In order to update document and data management, the department needed to populate the pending tax information as well as long-term soft storage of essential records related to the registered taxpayers of Bihar. This meant digitally processing over 1.2 million documents.
Solutions
A Centralised DMS has been built for safe, secure and easy document management. Documents, files and records are painstakingly collected, classified, barcoded and then securely prepared for transport so that they can be further processed. Once documents have been scanned and indexed, they are subjected to multiple parameters for cataloguing so that post-deployment retrieval, analysis and report generation is easy. Once the documents have been uploaded, authorised users can retrieve them at the click of a button.
Outcomes
Improved data management has allowed better data analysis, which has revealed dues worth Rs. 90 Crore. The new system is showing pendencies and alerting the department to action needed.
85 CTD Branches have been completed. The offsite facility houses 12,64,54,436 documents that have been properly catalogued. 38,26,406 files have been gathered and classified. 3,66,63,168 documents and 1,22,44,89 files have been digitised and transferred to the DMS.
Digitising and uploading documents has freed up a lot of space in the departmental offices. The burden and reliance on manpower has also decreased. Both these developments have allowed other office functions to improve.
Challenges
Undertaking such a largescale project involves a lot of logistical challenges. Existing physical documents had to be picked up, prepared and then processed before it could be uploaded to the Data Centre. This is a multi-step process that involves a number of rigorous exercises to ensure that data integrity and quality is maintained throughout. Data needs to be catalogued, stamped, scanned, extracted, subjected to multiple quality checks, captured, indexed, made into files and then finally uploaded. At the same time, managing the physical records is also a big responsibility. Adapting to the newly-digital system requires training, time and behavioural changes.
Innovation
Many institutions have taken to scanning documents and digitising their services but most have done so in a fragmentary manner. Most of these projects do not involve off-site physical storage services or the use of a DMS software programme. The Bihar Commercial Taxes Department has digitised the entire data management process chain and established a web-based DMS, inventory creation system, and physical offsite physical document storage. The project is a comprehensive, end-to-end service. Physical files that had to be disposed have been treated as per the Record Manual.
Opportunities
The concept has already received favourable feedback from others in the field, with other organisations exploring the possibility of setting up a web-based DMS to manage their old documentation.
The new system has freed up a lot of space, which can now be used by people and for other purposes. This indirectly boosts other activities and productivity in the department. Retrieving documents has never been easier, and authorised users can do so with a few clicks. Better document management has helped with data analysis that has revealed tax dues and actions needed and helped increase revenue. The MIS also informs better decision-making. All this operational efficiency comes with the comfort of digital and physical documents being safely maintained, protected against unauthorised access.
---
For more information, please contact:
Dr Pratima ., Commissioner-cum-Secretary at cct@bihar.gov.in
---
(The content on the page is provided by the Exhibitor)