Gujarat CM Dashboard – Chief Minister Office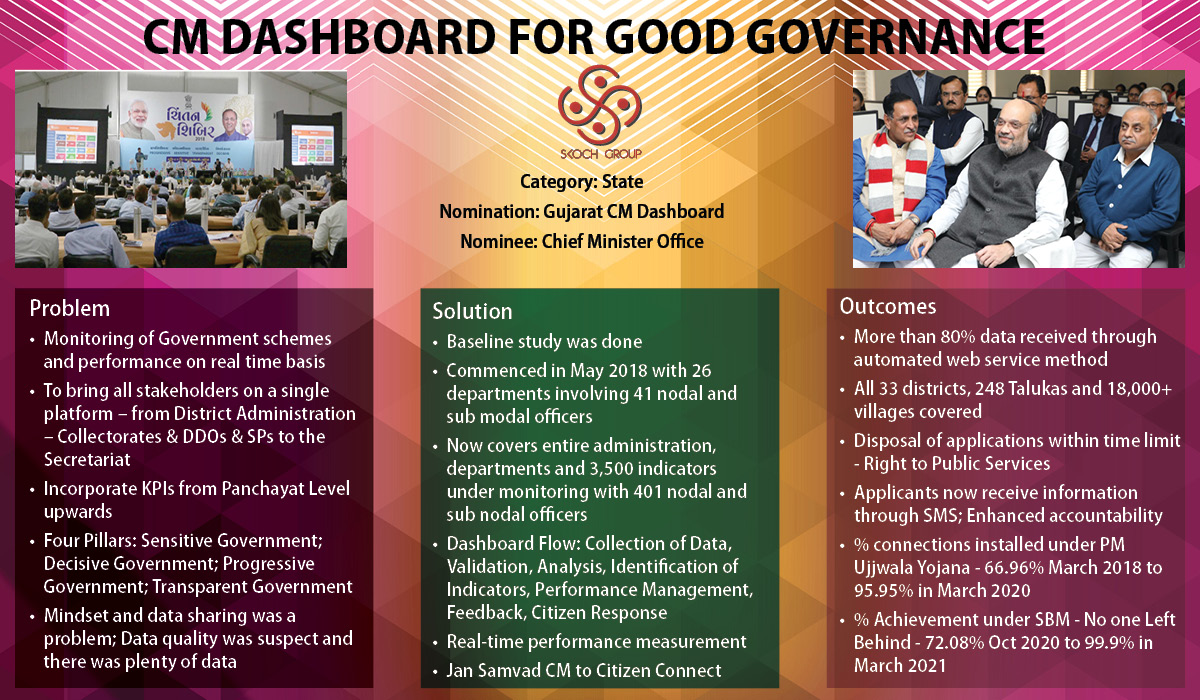 ---
SKOCH Award Nominee
Category: State – Ministry
Sub-Category: subState – Ministry
Project: Gujarat CM Dashboard
Start Date: 2018-05-04
Organisation: Chief Minister Office
Respondent: Mr Manoj Kumar Das, Additional Chief Secretary
https://cmogujarat.gov.in/en/
Level: Premium
---
Video
---
See Presentation
---
Gallery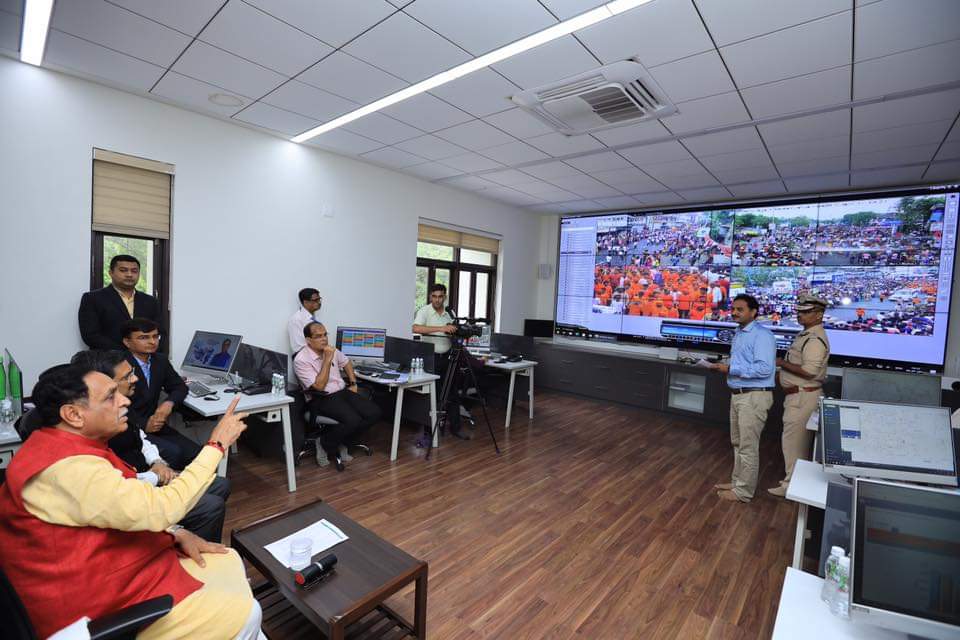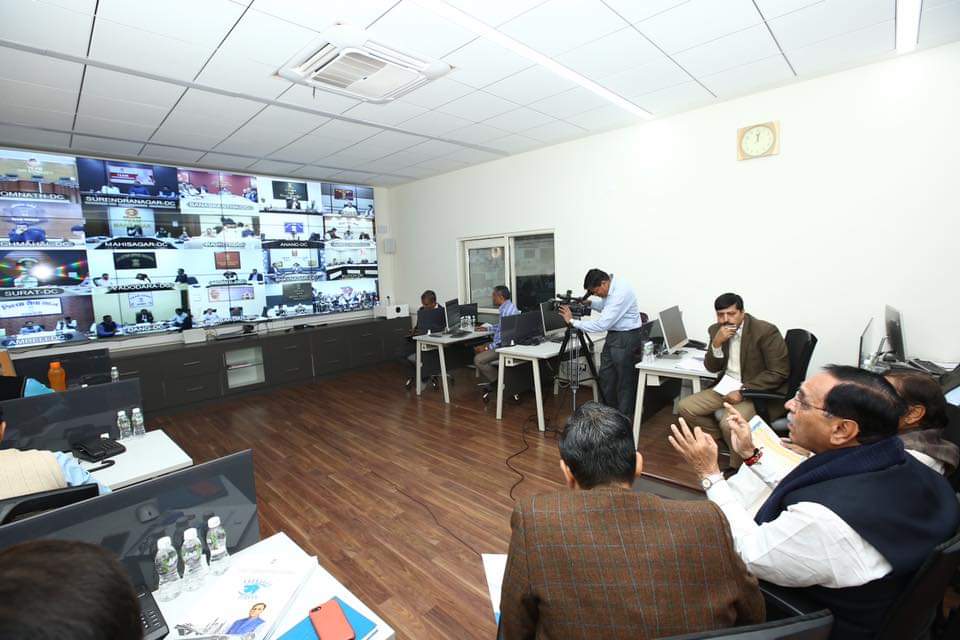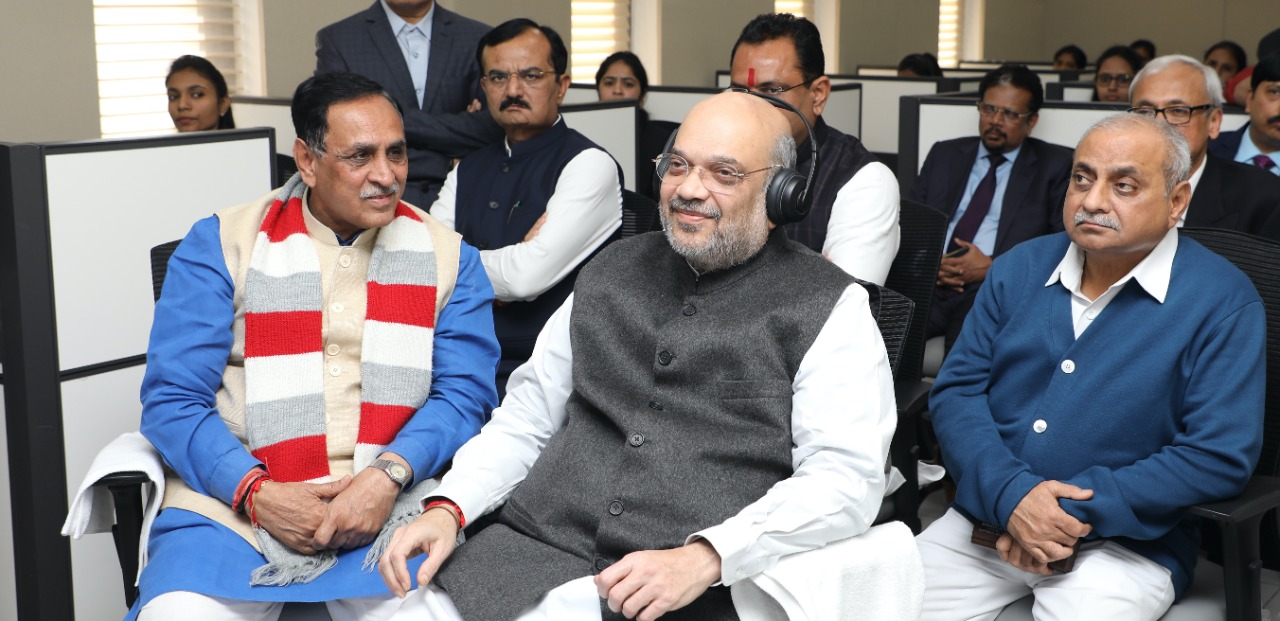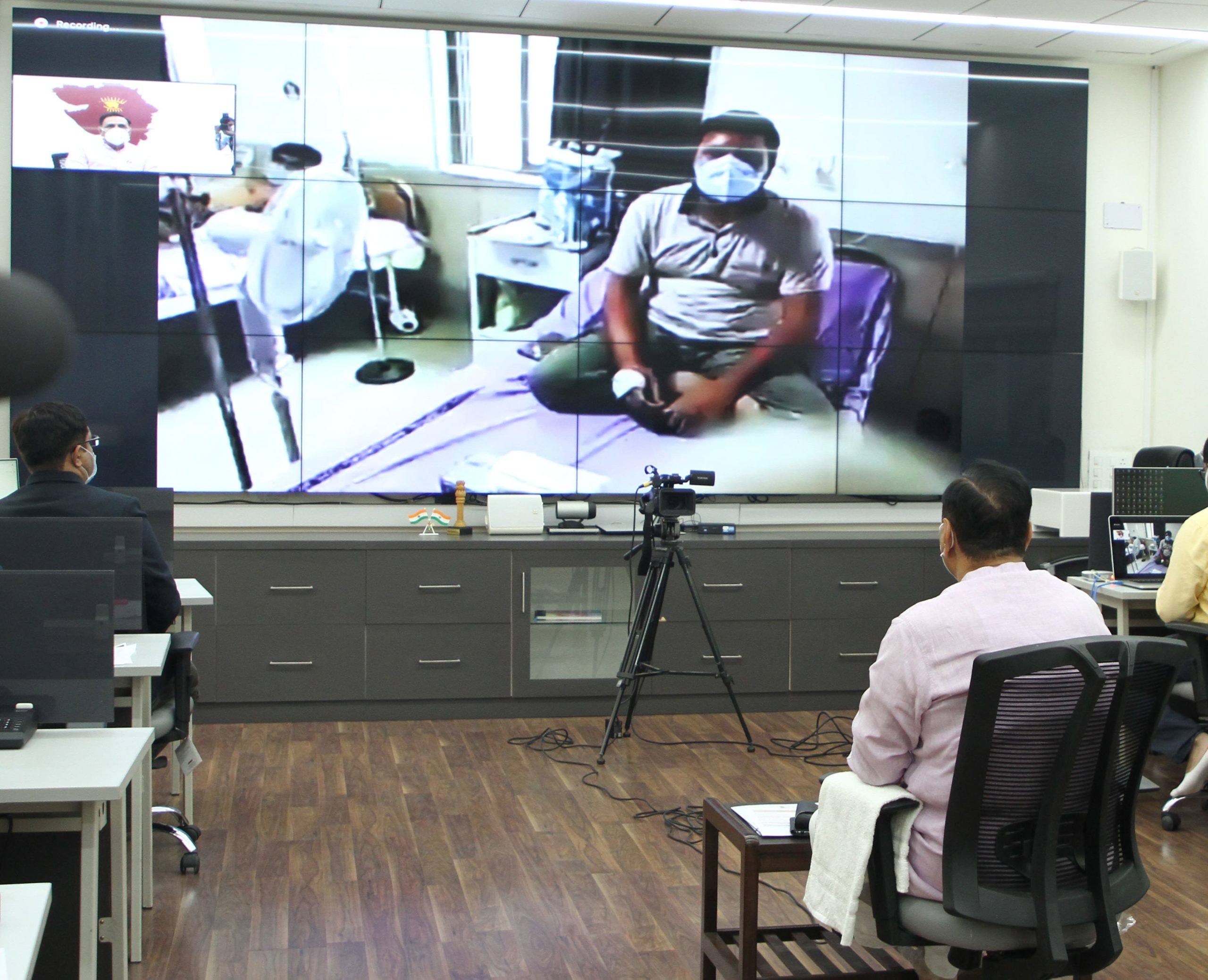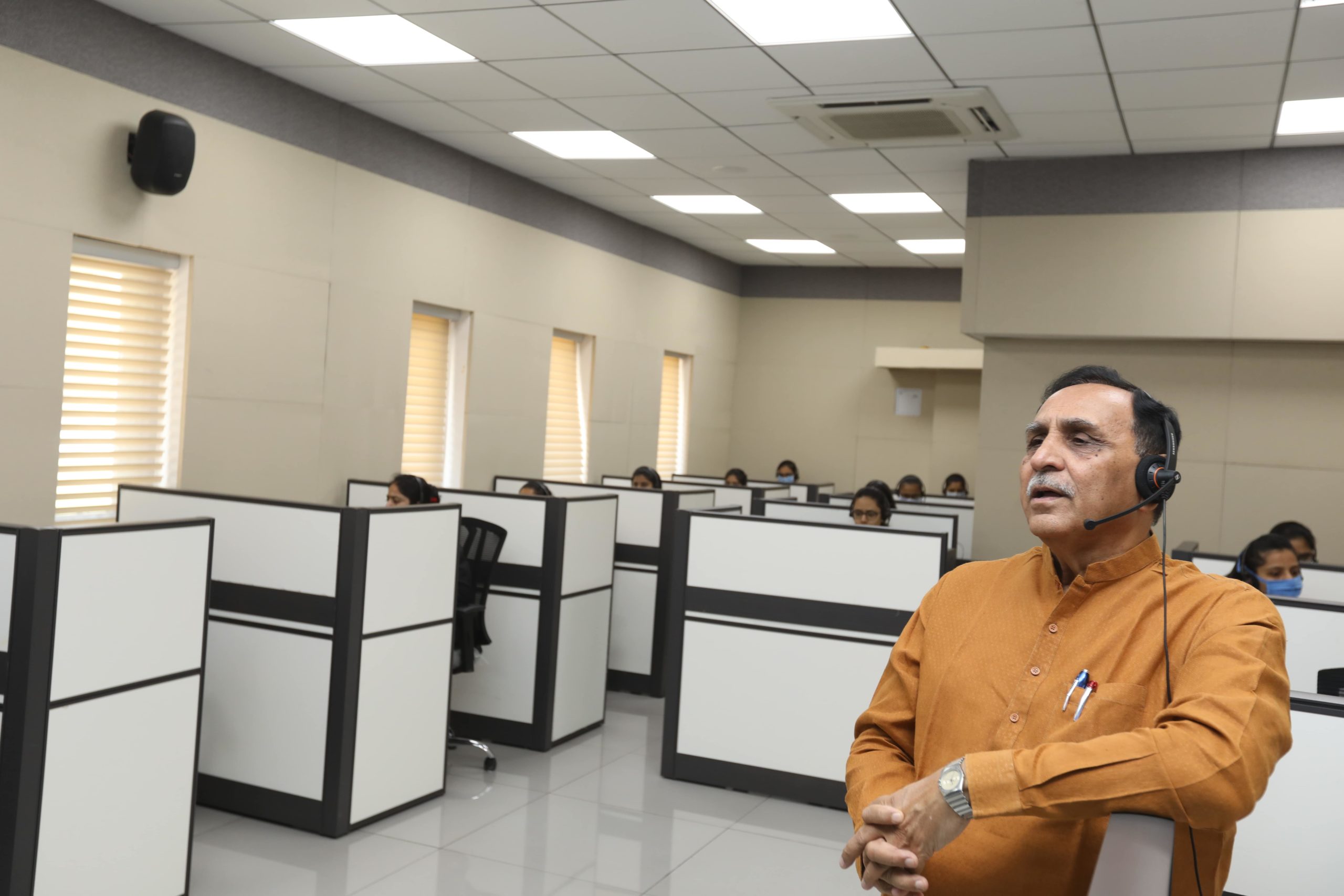 ---
Case Study
CM Dashboard is a key initiative of Government of Gujarat, which works as a single platform for entire government administration for better monitoring and control, necessary policy framework and daily work, keeping citizen at the center. It incorporates key performance indicators (KPIs) from Panchayat & Village level to all the collectorates, under its umbrella of continuous monitoring and analysis. Data can be analysed geographically, district-wise, as well as periodically – daily, weekly, monthly, yearly – for various KPIs. Further, based on the data analysis, necessary input is forwarded through ICT tool to concerned departmental as well as district authority for necessary timely action.
Keeping citizens at the heart of entire administration, to strengthen Good Governance day by day, Chief Minister, Gujarat gave 'Mantra' of 4 pillars for strengthening Good Governance:
Sensitive Government
Decisive Government
Transparent Government
Progressive Government
The CM Dashboard has been a radical ICT initiative for government administration in online monitoring of government schemes and performance on real time basis, bringing all stakeholders on a single platform – from District Administration – Collectorates & DDOs & SPs to the Secretariat – Various office Heads, Departmental Heads, respective Ministers up to the CM Office, having access to data on real time basis through CM Dashboard.
All projects costing more than Rs 5 cr are monitored through PRAGATI – Gujarat (Pro-Active Governance And Timely Implementation in Gujarat), which enables top officials to monitor implementation closely.
Challenges
It was a mammoth task to bring all arms of the government onto a single common platform.
Biggest challenge was mindset change and people were sceptical as much as fearful in sharing data with top hierarchy.
In addition there were data quality concerns. Since functions of Real-time Dashboard is to allow decisions to be made quickly based on current data, it was utmost important to have correct data. The success of the project was based on quality of data. This required capacity building and training
Too much of data was an even bigger challenge. There was complete lack of clarity with the respective departments about how to systematically collect data and what exactly to do with this data.
Solution
Centralised Application: CM Dashboard has brought a radical change in the approach and attitude of Government machinery, the way of governance. With the help of technology, all departments were brought on a centralised platform with standard framework. It has been successful in bringing the change and link it with Performance Based, Outcome Oriented work culture.
Real-Time Performance Measurement System (RTPMS)

With help of technology, all departments were brought on a common platform with standardised data, all departments were asked to identify KPIs keeping citizen at the center as the benchmark. All these KPIs are mapped with respective officers.

Officers' Ranking

Officers are ranked based on their performance on a real-time basis. Officers can see their respective performance along with top 5 performers in their group. Peer group data motivates officers and creates environment of healthy competition among them. Further, Officers' annual assessment is also linked with the CM Dashboard, which has encouraged them for better performance.

Departmental Star ranking

To ensure data quality, departmental star rating was introduced with parameters such as data fetching accuracy, timely verification and approval by Nodal & Sub-nodal Officers, fetching through web services to reduce human intervention, etc.

Jan Samvad CM To Citizen Connect

Set-up as a part of CM Dashboard system through which qualitative aspects of services is checked with fellow citizens and their feedback is recorded. Chief Minister interacts with the beneficiaries from time to time.

Jan Mitra connects with beneficiaries and takes their feedback for the services / benefits availed and the feedback is shared with the concerned department for necessary actions, if required.
Outcomes
The project commenced in May 2018 with initial 26 departments and a few parameters under monitoring involving 41 nodal & Sub nodal Officers, which has now grown with coverage of entire administration, all departments and more than 3,500 indicators under monitoring with 401 nodal & sub nodal officers mapping all key officials with penetration up to the Taluka (Tehsil) and village level with more than 80% of data received through automated web service method.
All 33 Districts, 248 Talukas, 18,000+ Villages, all departments of Government, their Head Offices, Boards, Corporations – are covered under CM Dashboard for regular monitoring.
There are improvements in performance in Health, Agriculture, Food & Civil Supply, Panchayat & Rural Development, State Transport and Revenue Department. For instance, in Agriculture, the percentage of coverage of beneficiaries under Khedut Scheme Crop Conservation has move up from 27.33% in March 2018 to 95.95% in March 2020. Similarly, percentage achievement under Swachh Bharat Mission in PR&RD is nearly 99.93% as of February 2021. The coverage under PM Jan Arogya Yojana (PMJAY) has expanded to 43,70,013 against 26,88,905 during the implementation period.
---
For more information, please contact:
Mr Manoj Kumar Das, Additional Chief Secretary at cmdb@gujarat.gov.in
---
(The content on the page is provided by the Exhibitor)