ABHI – Aditya Birla Health Insurance Co. Ltd.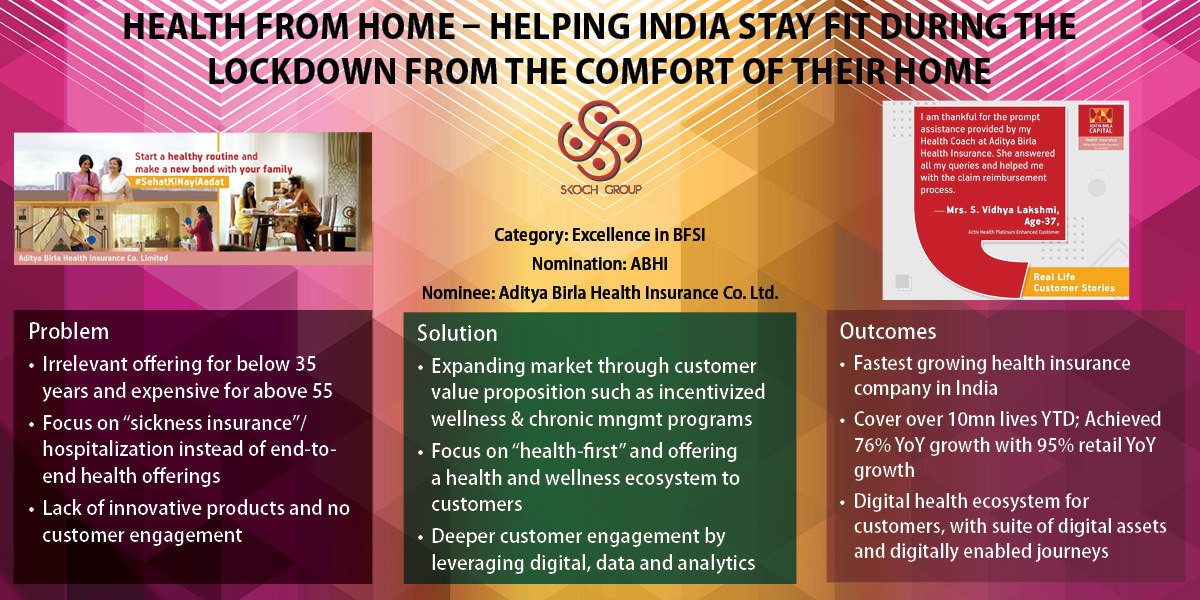 ---
SKOCH Award Nominee
Category: Private Sector – General Insurance
Sub-Category: Excellence in BFSI
Project: ABHI
Start Date: 2016-11-24
Organisation: Aditya Birla Health Insurance Co. Ltd.
Respondent: Mr Mayank Bathwal, CEO
https://www.adityabirlahealth.com/
Level: Club Plus
Voting has been closed for this project.
---
Videos
---
See Presentation
---
Gallery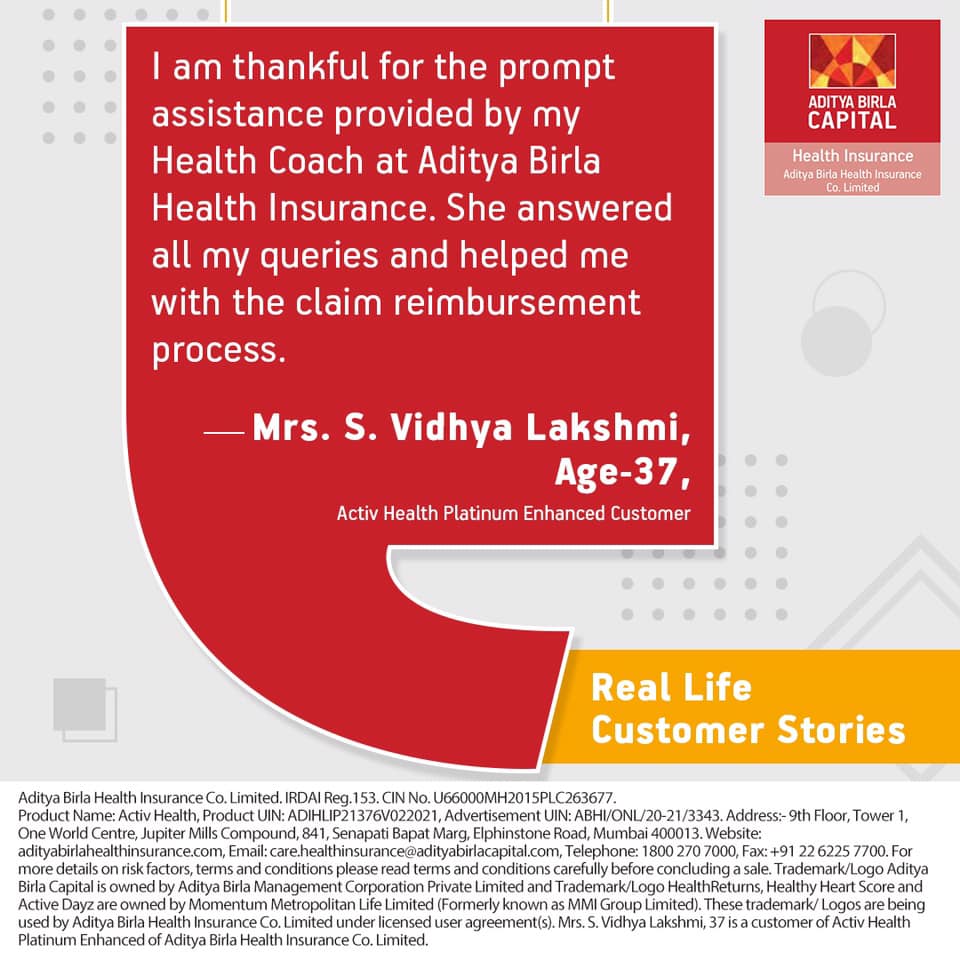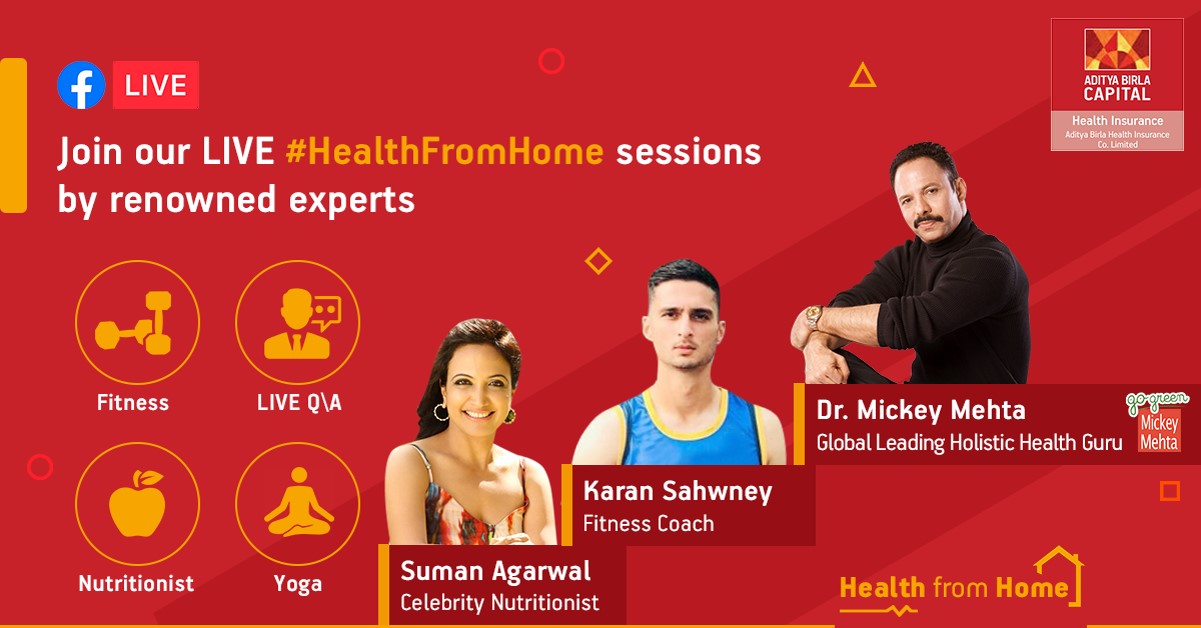 ---
Case Study
ABHI was the 27th Health Insurance Player entering the Health Insurance space against the backdrop of Health Insurance perceived synonymous with Mediclaim and poorly differentiated industry offerings, the result being Health Insurance penetration was an abysmal <5% in India and the industry being a "buy & forget" category. ABHI took a conscious decision of challenging the status quo by focusing on a 'health-first' model and addressing the existing white spaces through our unique products and digital-first mindset, ensuring the much-required customer engagement through a comprehensive healthcare and wellness services ecosystem accessible via our first-of-its—kind smartphone app. We set out to change the focus of the industry to 'health' rather than 'insurance' to add value by securing customers' health and bring about a paradigm shift in the outlook towards health insurance from a proactive 'Health First' perspective than a reactive 'sickness' approach. ABHI pioneered the shift of the health insurance category from a 'buy and forget' to a 'buy and engage' category. Our business model is centered around our "purpose" which is to empower and motivate families to prioritize their health and live fulfilling lives. In order to achieve this, our key differentiators have been our unique value proposition and our multi-distribution strategy to drive value through scale. Our products are designed to incentivize customers to proactively maintain an active lifestyle by offering up to 30% premiums back by tracking daily activity/ calories. Pro-active care keeps employees fit and reduces chances to fall sick and get hospitalized, thereby fully aligning our goals with customer goals. Our Chronic Management Program offers day1 cover for lifestyle diseases such as diabetes, hypertension, asthma and cholesterol, wherein a dedicated trained 'Health Coach' periodically checks on customers and ensures complete and holistic care is being taken. Thus, our wholesome product offerings are designed to suit the needs of new consumer segments and expand the overall pie, going much beyond mere financial support to holistic health care of our consumers. We have created a model which has become an industry benchmark and is being closely watched and replicated by our competitors. Our integrated health and wellness platform, covering a broad range of services has a strong potential to become the single go-to app for all health and wellness needs. Our robust governance framework, end-to-end digitized sales, distribution processes and exemplary focus on customer service with continuous learning and improvement provides us a strong sustainable advantage. We continuously seek new ideas – both internal and crowdsourced and run new pilots for new products, channels & distribution. Our approach is to move away from owning the entire ecosystem in-house to partnering through integration with the best digital and health-tech players globally and nationally to facilitate superior customer experience and hence be the first choice for our customers for any health and wellness related needs.
---
For more information, please contact:
Ms Varsha Agarwal, Executive Assistant to CEO at Varsha.Agarwal@adityabirlacapital.com
---
(The content on the page is provided by the Exhibitor)