Gujarat Prisons Response to COVID-19, Gujarat Jail Department (Home)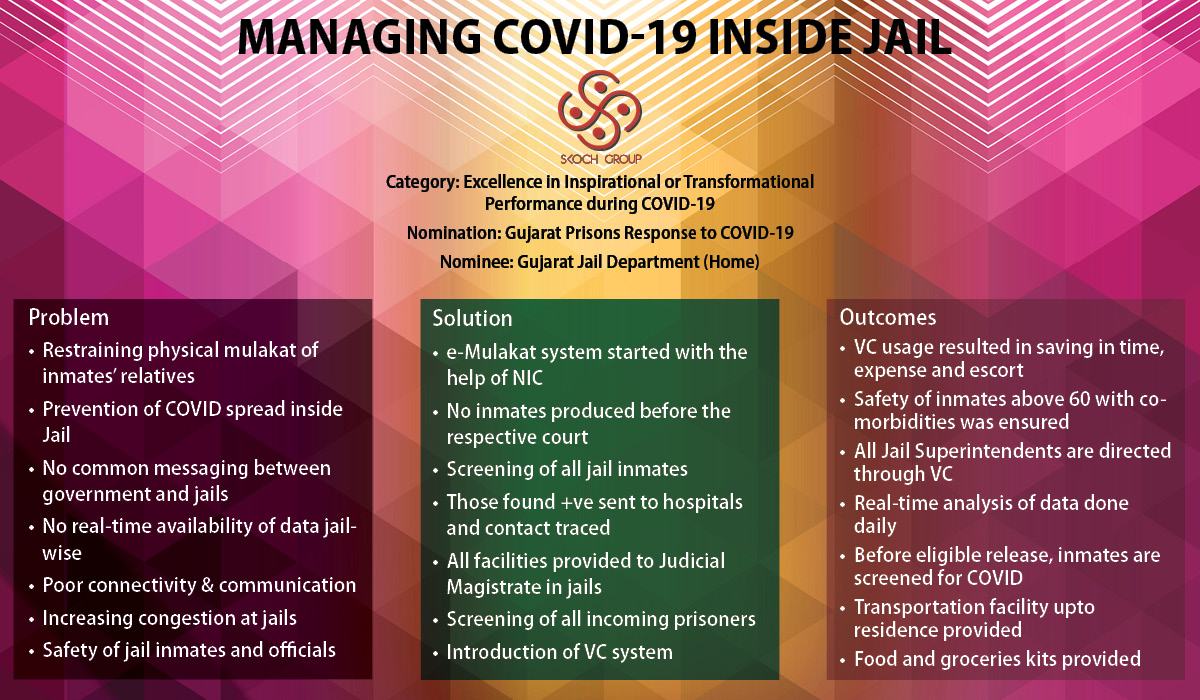 ---
SKOCH Award Nominee
Category: Excellence in Inspirational or Transformational Performance during COVID-19
Sub-Category: Inspirational or Transformational Performance during COVID-19
Project: Gujarat Prisons Response to COVID-19
Start Date: 19-Mar-2020
Organisation: Gujarat Jail Department (Home)
Level: Club Plus
Respondent: Dr K Laxminarayana Rao
Voting has been closed for this project. Thank you for participating!
---
Video
---
See Presentation
---
Gallery
---
Case Study
Due to COVID-19, the Video Conferencing infrastructure was set up at the Head Office, which is being used to pass on instructions to respective Jail Superintendents to follow the direction and guidelines of the Supreme Court and the High Court, particularly to restrain the movement of inmates' relatives/visitors to the jails. A detailed SOP regarding health measures approved by the Health & Family Welfare Department, Government of Gujarat, has been implemented in all the jails of Gujarat.
Furthermore, throughout during the pandemic, Video Conferencing was used to give requisite instructions to the Medical Staff, Para-Medical Staff and the Jail Staff to take all necessary precautions and measures to combat the spread of COVID19 inside jail. Special attention has been given to those with age of 60 and above those with co-morbidities.
To restrain the physical meeting and visit of relatives, the e-Mulakat system was developed and implemented with the help of NIC at all jails across the state. There are 30 jails across Gujarat consisting of 4 Central Jails, 11 District Jails, 8 HQ Sub Jail, 2 Special Jails, 2 Women Jails and 3 Open Jails – all of them are on e-Mulakat now.
All precautionary measures have been taken to reduce the menace of COVID19 in jails. Before release of all the eligible jail inmates on interim bail, parole or furlough, are screened for COVID19, in addition to the full medical check-up. Transportation facility up their residence is being provided by the respective Jail Superintendent. NGOs have volunteered to provide food and grocery kits to such prisoners released.
Challenges
The COVID19 is still a challenge, reducing congestion of visitors to jails was important to keep the jails safe. Under this scenario, in order to minimise overcrowding and maintaining hygiene and cleanliness in jails, the period of interim bail was extended upto 31/10/2020.
Solution
Vide order dated 23/03/2020 of the Supreme Court of India, a State level Committee has been constituted under the chairmanship of Addl DGP, Prisons & Correctional Administration to safeguard the health of prisoners. As per directions of the Supreme Court vide order dated 13/04/2020, all Jail Superintendents have been directed that in case of any inmate found with COVID19 symptoms, he should not be released from jail but taken for further testing and treatment in a hospital as per protocols.
All the new convicts are also being tested, in addition to general check-up, for COVID19, before being assigned a jail.
Outcomes
All those prisoners who are serving a term (those who have not been granted interim bail, parole or furlough) are being screened for COVID19 twice a month. Those found with symptoms of high fever, cough, difficulty in breathing are immediately tested for COVID19 and if tested +ve, are sent to civil / designated hospital for further treatment.
On introduction of VC system during Covid-19 pandemic situation, the personal interview system has been discontinued, which is helpful in combating the spread of Covid-19 inside the jail.
VC system is helping all Jail Superintendents to receive directions / guidelines instantly and are in a position to execute within 2-3 days, thus reducing the communication loss as well as cost.
Further, no inmates are now being produced before the respective court physically. Usage of VCs for this is resulting in saving of time, expenses, escort party, security and so on.
---
For more information, please contact:
Dr K Laxminarayana Rao, Additional Director General Of Police, Prisons & Correctional Services
---
(The content on the page is provided by the Exhibitor)